Effects from the '3 increase, 3 decrease' model
The model of "3 decrease, 3 increase" in rice production is one of the models to help farmers access advanced and highly effective farming methods and techniques. Currently, this model contributes to raising farmers' incomes and reducing environmental pollution in agricultural production.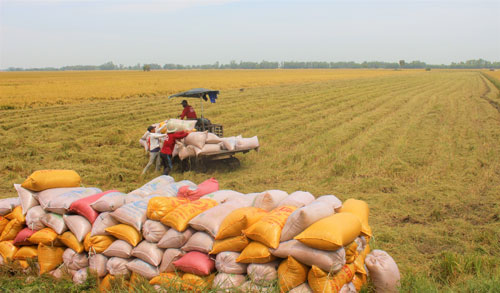 The model of "3 decrease, 3 increase" helps increase productivity and income for farmers
The model brings alot of profit
Since 2013, the Provincial People's Committee has planned and built a high-quality rice production area with an area of more than 48,000 hectares in 25 communes in the Dong Thap Muoi region. The objective is to create a source of raw materials for rice processing for export, promote competitive advantages, improve production efficiency and increase income for farmers. In the area planned to grow high-quality rice, rice-frowing farmers must sow seeds with certified varieties of high quality, applying the unified process "1 must, 5 decrease", "3 decrease, 3 increase", so on to ensure 100 percent of the harvested rice production meets the requirements of high quality.
"3 decrease, 3 increase" is a pest management program based on the relationship of crop nutrition and pest damage. "3 decrease, 3 increase" includes: Reduce the amount of seeds sown, reduce the amount of pesticides, diseases, reduce the amount of nitrogen fertilizers; increase rice yield, increase rice quality, increase economic efficiency. In recent years, the model of "3 decrease, 3 increase" is no longer strange to farmers in the province.
Mr. Huynh Van Hau (Binh Tay hamlet, Tuyen Thanh commune, Kien Tuong town) previously produced according to the old practice, sowing density, about 200-240 kilos of seed per hectare. After attending the technical training course "3 decrease, 3 increase ", he gradually switched to production according to this model. Currently, he only sows about 100-120 kilos of seeds per hectare, down nearly half compared to before. Thanks to grasping the technique, the number of times of fertilizing in each crop is also reduced. At the same time, he knew when to spray pesticides instead of spraying arbitrarily as before.
Mr. Hau shared: "In the past, every time I went to the field to see worms, I immediately sprayed it, which was leaf roller, stem borer, etc. Since the application of "3 decrease, 3 increase", from sowing until the rice is 40 days old, I absolutely do not use pesticides, so the production costs are also lower.
In the summer-autumn crop of 2021, Kien Tuong town has built 3 models of "3 decrease, 3 increase" in communes: Binh Hiep, Tuyen Thanh and Thanh Hung in order to improve efficiency and contribute to reducing greenhouse gas emissions in the year. rice production. Accordingly, when participating in the "3 decrease, 3 increase" model, in addition to training and technical guidance, farmers are also supported with 50 percent of the cost of rice seed and 50 percent of the cost of organic fertilizers and probiotics.
Mr. Tran Thanh Giang - farmer participating in the model, shared: "Rice farming under the model of "3 decrease, 3 increase", my family reduced 50 percent of the amount of fertilizer, reduced spraying of pesticides 3-5 times per crop and sprayed only when really needed, rice yield at the end of the season increased by 10-15 percent compared to previous crops, especially the profit was higher than the model about 3 million VND per hectares. Not only applying in my family, I also share my experience with many other farmers. This winter-spring crop, local farmers are expected to continue farming in this direction and jointly expand the area to make it easier to consume".
Mr. Huynh Thanh Tu (Bau Chua hamlet, Thanh Hung commune) said: "The last summer-autumn crop was the first crop I produced according to the process of "3 decrease, 3 increase", so I was also very worried when reducing the amount of seed sown and the recommended number of sprays. However, now I am very excited with this new farming technique, compared to before, "3 decrease, 3 increase" brings many benefits such as helping rice to be healthy, hardy, less falling, limiting pests, diseases, increase productivity and profits".
Director of the Agricultural Service Center of Kien Tuong town - Bui Van E said: "The model of "3 decrease, 3 increase" creates favorable conditions for farmers to get used to new farming techniques. After this model, we continue to transfer more advanced production models to orient rice farmers to better meet the needs of the market".
According to the assessment of the Agricultural Service Center of Kien Tuong town, the application of rice farming techniques according to the model of "3 decrease, 3 increase" brings many benefits, contributing to a reduction of about 40 percent in seed costs (the sowing density is from 100 – 120 kilos per hectare compared with old farming practices of farmers using over 200 kilos per hectare); Rice plants grow and develop well, with few pests and diseases, so the cost of pesticides and fertilizers can be reduced by over 2 million VND per hectare. Rice quality is good, productivity increases, thus contributing to an increase in profit from 2.6-3.6 million VND per hectare compared to outside models.
Expanding the model area
From the beginning of 2021 until now, the Provincial Sub-Department of Cultivation, Plant Protection and Quality Control of Agricultural Products has held 15 seminars on plant pests, with more than 450 turns of farmers participating. At the seminars, the technical staff of the Sub-Department integrated rice cultivation techniques according to "3 decrease, 3 increase" and "1 must, 5 decrease" for farmers. From there, it has changed awareness and contributed to helping farmers change production methods, reduciing the amount of seeds, fertilizers and pesticides, saving a lot of costs and increasing profits.
Particularly in the Winter-Spring crop 2021 - 2022, the Sub-department continues to implement 4 demonstration models in Kien Tuong town and Moc Hoa district, each model has an area of 1 hectare. Accordingly, in the demonstration models, seeding or transplanting by machine will be carried out to show farmers the reduction of sowing density. At the same time, the models will also reduce the amount of urea fertilizer to 7-8 kilos per 1,000 square meters and in the first 40 days do not spray pesticides to protect natural enemies.
Head of the Department of Agriculture and Rural Development in Moc Hoa district - Nguyen Thanh Nam said: "Households following the process of "3 decrease, 3 increase" all think that this process helps them reduce the cost of seeds, nitrogen fertilizers, pesticides and increase rice yield, contributing to clean agricultural products and environmental protection. The efficiency achieved from the models is quite high, people's income increases significantly. This is a positive signal to help the Agriculture industry move towards sustainability.
In addition, at present, the price of agricultural inputs has increased, so farmers are more interested in the "problem" of reducing production costs with synchronous technical solutions in the farming process, especially is the process of "3 decrease, 3 increase " to reduce production costs and increase profits.
According to the Director of the Sub-Department of Cultivation, Plant Protection and Quality Control of Agricultural Products - Nguyen Van Cuong, over the past time, the price of fertilizers and pesticides has increased significantly, making production costs significantly higher. tell. In order to develop sustainably in agricultural production on a large-scale commodity, to meet export markets well, localities need to pay attention and direct the synchronous implementation of advanced technical solutions into production; encourage farmers to produce according to the value chain, improve product quality to meet the requirements of enterprises in association and consumption.
"With the model of "3 decrease, 3 increase", the Provincial Agriculture sector wishes to bring to farmers new and more effective farming techniques; At the same time, helping farmers to gradually change old farming practices, jointly build areas of high quality raw materials, easy to consume and increase profits.
In the coming time, the Sub-Department will coordinate with localities to continue promoting information and propaganda on rice farming solutions for farmers, cooperatives and cooperative groups. In addition, the Sub-Department also continues to monitor and test the application of technical advances in plant varieties, biotechnology, organic products, etc. in production and disease prevention to have a basis. building models, providing information and recommendations to the people" - Mr. Cuong added./.
"The application of rice farming techniques according to the model of "3 decrease, 3 increase" brings many benefits, contributing to a reduction of about 40 percent in seed costs; Rice plants grow and develop well, with few pests and diseases, so the cost of pesticides and fertilizers can be reduced by over 2 million VND per hectare. Good quality rice, increased productivity, thus contributing to increase profit from 2.6 to 3.6 million VND per hectare compared to outside model", Kien Tuong Townlet Agricultural Service Center shared
By Bui Tung – Translated by Duc Tam
Source: https://baolongan.vn/-hieu-qua-tu-mo-hinh-3-giam-3-tang-a127242.html