Government holds online meeting on preventing, controlling Covid-19 epidemics
On March 17, Prime Minister - Nguyen Xuan Phuc chaired the online meeting between the Standing Government and the National Steering Committee for preventing and controlling Covid-19 epidemics and 63 provinces and cities to assess the results of preventing and controlling epidemics over the past time and discuss solutions to continue to effectively prevent and combat epidemics in the coming time. In Long An, Vice Chairman of the Provincial People's Committee - Pham Tan Hoa chaired the conference.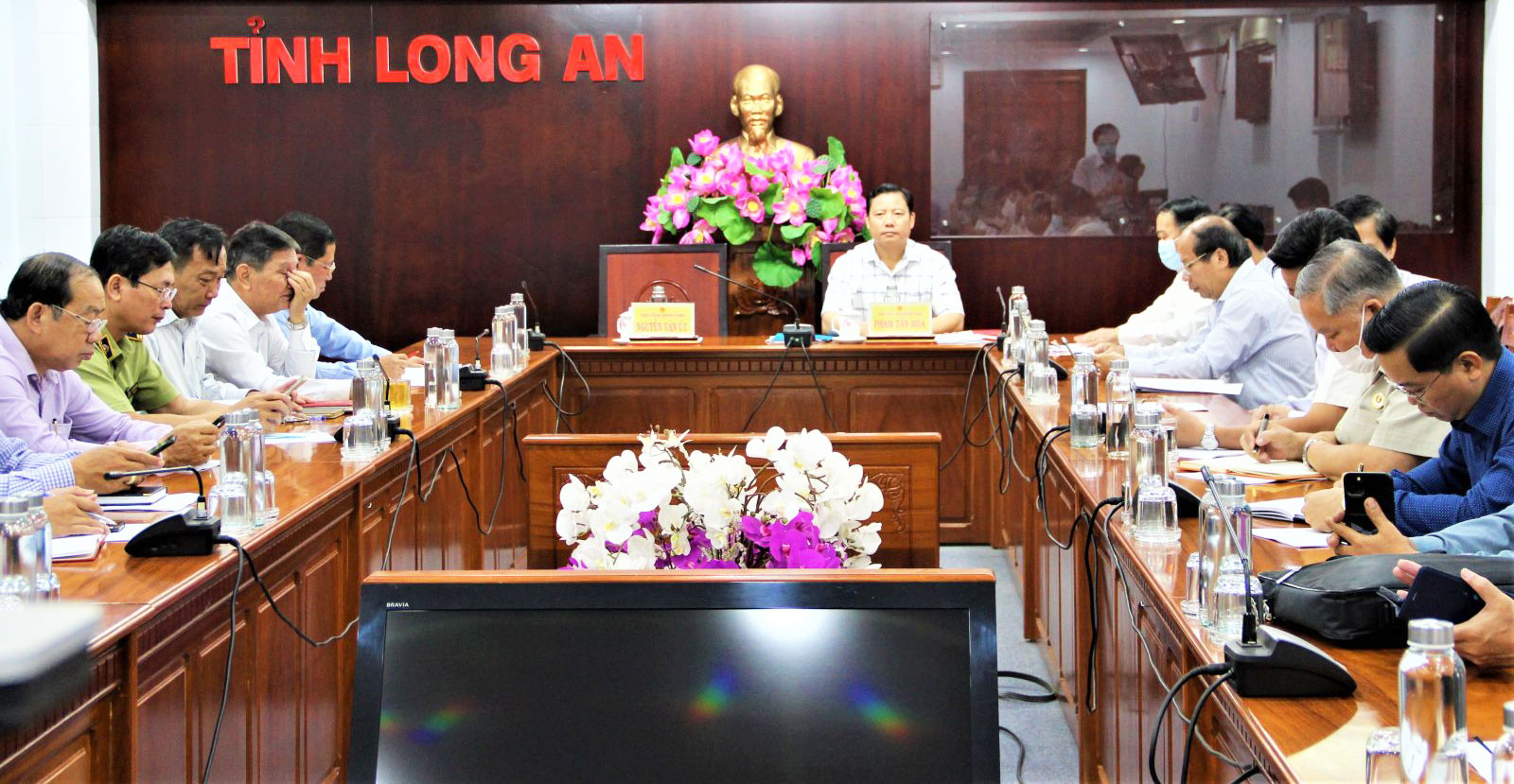 Vice Chairman of the Provincial People's Committee - Pham Tan Hoa chairs the conference at Long An end-point bridge
Currently, the epidemic has been basically controlled and prevented from spreading on a large scale, but the risk of an outbreak is always present, especially in big cities where people are densely concentrated and high population. At the same time, the risk of disease penetration is due to illegal entry.
In the coming time, epidemic control depends heavily on the development of vaccines. By the end of March 16, 2021, more than 16,000 people who were the frontline anti-epidemic forces were vaccinated to ensure safety. AstraZeneca will provide the expected delivery schedule for Vietnam in March 2021. At the same time, the Ministry of Health continues to negotiate with other companies to diversify supply sources. In addition to imported sources, the Ministry of Health is promoting the progress of research and development of vaccines in the country, which are expected to be used in 2022.
Speaking at the conference, the Prime Minister - Nguyen Xuan Phuc suggested that localities should be proactive in anti-epidemic measures, ready to respond to all possible epidemic situations in the area with the motto 4 at site. Besides, they closely coordinate with the Ministry of Health to regularly organize teaching, training and drills to prevent epidemics, thoroughly grasp the motto of fast tracing, rapid localization, wide testing, narrow blockade and implementing concentrated isolation with all cases of close exposure to F1, control pathogens, not to spread widely in the community.
In addition, localities must continue to direct measures for preventing and controlling epidemics under the guidance of the Ministry of Health, especially the 5K measure; direct functional agencies to strictly manage people entering and quarantine to ensure security, order, safety in preventing and controlling epidemics. For the Ministry of Health, it directs the whole branch to be ready to respond to all epidemic situations; well organizes Covid-19 vaccination to ensure safety, urgency, right people, towards universal vaccination; considers the access to different vaccine sources, carefully evaluates the level of vaccine safety; continues to research and develops vaccines in the country to soon put into use; etc./.
By Bui Tung – Translated by Duc Tam
Source: https://baolongan.vn/chinh-phu-hop-truc-tuyen-ve-phong-chong-dich-benh-covid-19-a111419.html