HIV carriers registered with health insurance reach 89 percent
As many as 89 percent of HIV/AIDS patients receiving antiretroviral drug (ARV) treatment in Vietnam have signed up for health insurance cards so far, with the figure expected to exceed 90 percent by the end of this year.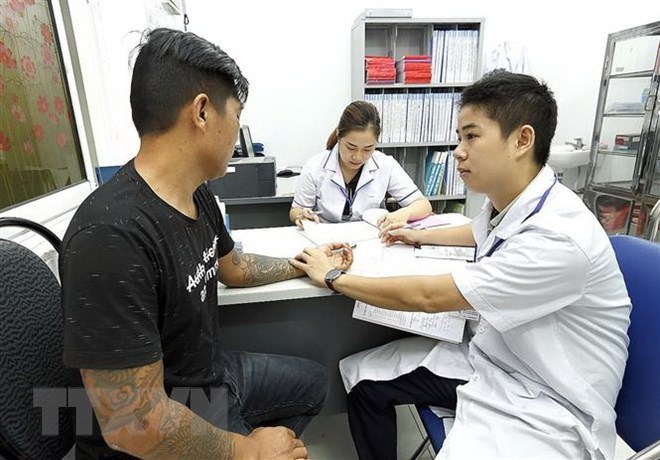 Illustrative image (Source: VNA)
The information was revealed at a workshop held by the Ministry of Health's (MoH) Department of HIV/AIDS Prevention and Control, in conjunction with international organisations, in Hanoi on November 20, which was part of activities responding to the national action month for HIV/AIDS prevention 2018.
The event aims to guide the management and use of ARV medicine from health insurance funds in 2019 for HIV/AIDS treatment establishments.
Addressing the event, Associate Prof. PhD Nguyen Hoang Long, Director of the MoH's Department of HIV/AIDS Prevention and Control, highlighted Vietnam's achievements in HIV/AIDS prevention in recent years, stating that the rate of HIV-infected people has continued to decrease over the last 10 years.
It is estimated that efforts have helped about 400,000 people avoid contracting HIV and about 150,000 others from dying due to the disease, he said.
However, Long pointed out some of the difficulties facing the country in the fight against HIV/AIDS, as assistance sources for HIV/AIDS prevention is decreasing, adding that this has challenged Vietnam to realise its 90-90-90 target for HIV/AIDS prevention and control by 2020.
In recent times, the MoH has taken a series of actions, focusing on raising public awareness of health insurance cards for ARV treatment and directing localities to improve the standards of their health stations for HIV/AIDS treatment, enabling them to meet the requirements of medical examination and treatment under health insurance contracts, thus expanding the coverage of health insurance for HIV/AIDS carriers.
Attention has been also paid to signing contracts of ARV medicine supply; works related to receiving, managing, and using the medicine; and managing information of HIV patients taking ARV treatment.
Long said the ministry is coordinating with the Vietnam Social Security to build a database of HIV/AIDS patients receiving ARV treatment, which will serve the management of ARV invoices and receipts from health insurance sources.
Congratulating Vietnam on its achievements in the fight against HIV/AIDS, Chief representative of the World Health Organisation (WHO) in Vietnam Kidong Park said he was impressed with the National Assembly's attention on sustainable HIV control, in particular its plans to reinforce the national HIV/AIDS prevention programme in the country's health system.
He said this is a very important stage for Vietnam to implement the programme objectives and promote the programme in the country's health system, reaching its target of completely eradicating HIV/AIDS by 2030.
Park suggested that Vietnam expand its ARV management system by using assistance from insurance health funds to help all HIV carriers and patients with infectious diseases easily access health services without financial barriers.
Resources from the Government and localities are necessary for HIV patients taking ARV treatment, who often cannot afford health insurance, he added.
According to the Department of HIV/AIDS Prevention and Control, the health sector is rushing to prepare for the provision of ARV medicine through the Health Insurance Fund as from January 1, 2019 under the Prime Minister's Decision No.1125/QD-TTg dated July 31, 2017. Accordingly, after the decision takes effect, 191 medical establishments will be provided with ARV medicine to treat around 48,000 patients.
The 90-90-90 goals mean that by 2020, 90 percent of HIV-infected people will be diagnosed, 90 percent of patients will have access to and receive ARV drugs, and 90 percent of people taking ARV drugs will have durable viral suppression./.
VNA