Industrial Promotion Center accepts and puts into use wood lathe for Moc Duc Thanh Cooperative Group
Industry and Trade Promotion Center (Industrial Promotion Center) of Long An province has just coordinated with the Division of Economy and Infrastructure of Thanh Hoa district and the local government to organize the acceptance and put into use the wood lathe for the Moc Duc Thanh Cooperative Group. This is one of the projects using local industry promotion funds in 2021.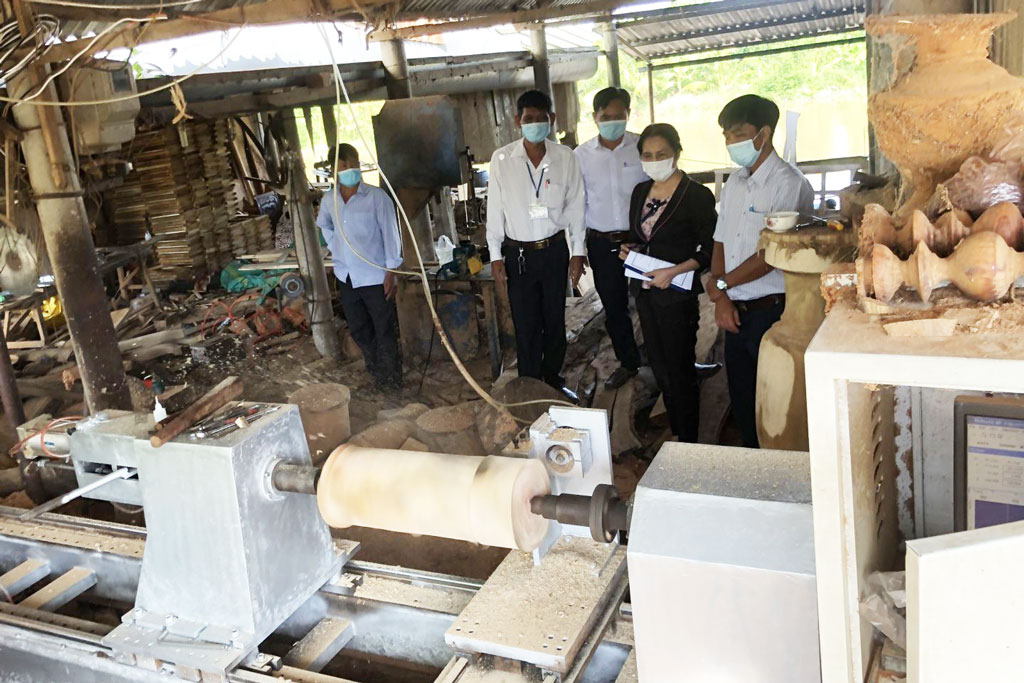 Delegates visit, check and accept wood lathes
Moc Duc Thanh cooperative group (hamlet 2, Thuy Tay commune, Thanh Hoa district) led by Mr. Nguyen Duc Thanh, specializes in processing and processing wood products.
The project has been implemented from October 2021 to present. The total budget for the implementation of the project is 293.4 million VND, of which the local industrial promotion fund supports Moc Duc Thanh cooperative group with 100 million VND to invest in a wood lathe. The remainder is the counterpart fund of the beneficiary. Lathes are applied to many wood products such as water hyacinth, chair legs, cabinet legs, so on and products are diverse in types and sizes.
According to Mr. Nguyen Duc Thanh, in the past, before investing in a wood lathe, manual wood turning products did not have uniformity, which was difficult to meet in terms of technical requirements and errors as required. When using the lathe, the product has high uniformity, precision, finesse, meets the technical requirements, can make many products with high difficulty. Fast product completion time, reasonable price to meet the needs of today's consumers.
Director of the Center for Industry Promotion - Tran Thanh Toan said that the Center has used local industrial promotion funds to support many wooden furniture and handicraft production facilities to help them maintain and develop traditional craft over the years. Thereby, it contributes to diversifying products to help establishments and businesses develop sustainably, ensure a stable source of goods supplied to the market, increase competitiveness and be suitable for the industrialization process./.
By Mai Huong – Translated by Duc Tam
Source: https://baolongan.vn/trung-tam-khuyen-cong-nghiem-thu-dua-vao-su-dung-may-tien-go-cho-to-hop-tac-moc-duc-thanh-a126099.html