Long An: Local industry promotion funds support automatic filling and packing lines of shrimp paste for Ba Buoi business households
Long An Industry and Trade Promotion Center (Industrial Promotion Center) has coordinated with local authorities and Ba Buoi business households to test and accept the project "Support for the application of technological lines in filling, packaging automatic shrimp paste". This is one of the projects using local industry promotion funds in 2021.
Automatic shrimp paste filling line
The project has been implemented from May 2021 until now with the implementation budget of 346.5 million VND, of which the local industry promotion fund supports 170 million VND, the rest is the counterpart capital of the establishment.
Ba Buoi business household has a production establishment in Nhon Thanh Trung commune, Tan An city with business lines including production, trading and packaging of shrimp paste, dried food and salt.
Over the past time, Ba Buoi business household has been supported by the Department of Industry and Trade to promote and participate in the Program on Industrial and Trade Promotion to introduce products at fairs and exhibitions inside and outside the province, at the reststops, so on, thus the product is known to more people. Due to the high demand for products, while the capital is not much, the investment in equipment lines for production is still limited.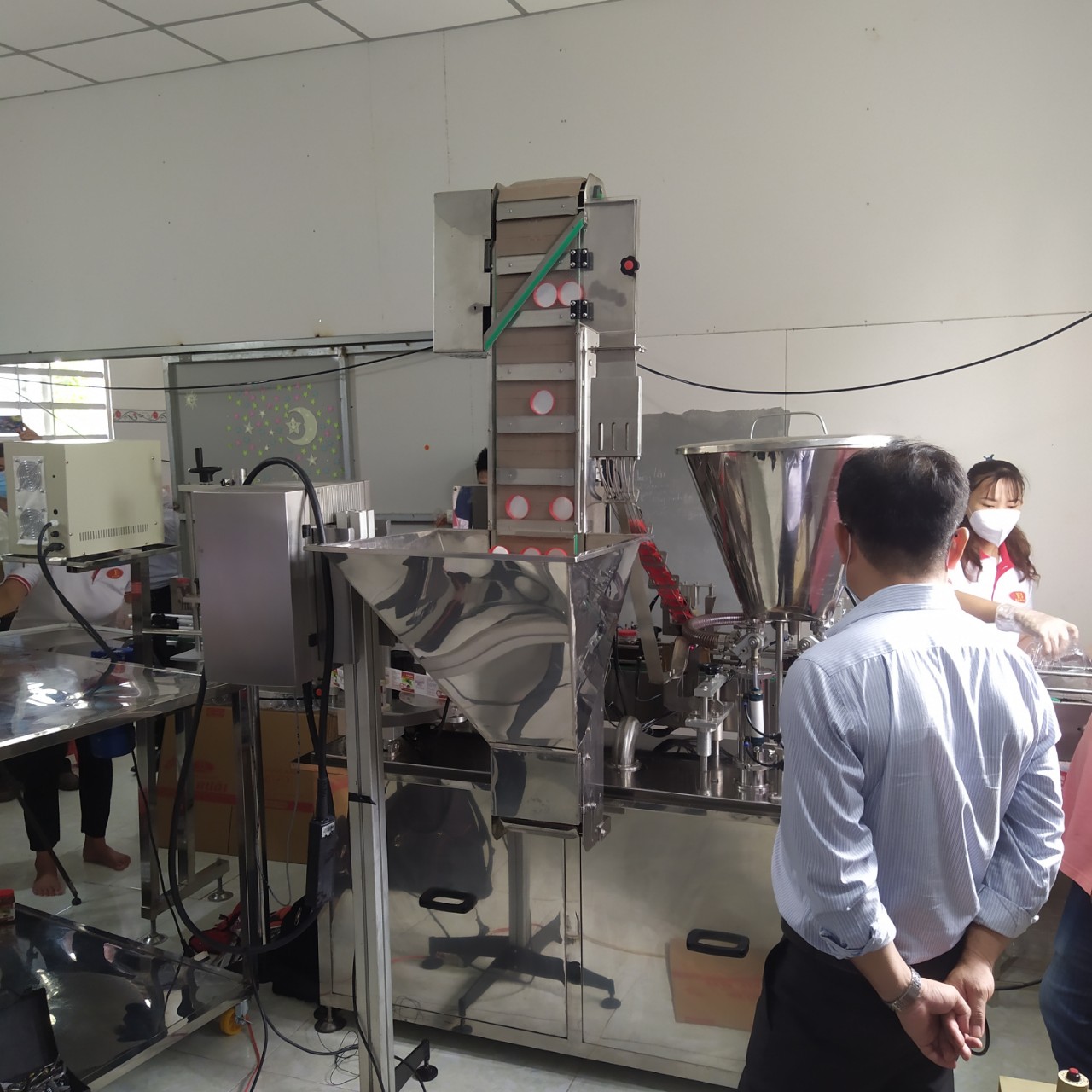 Automatic filling and packing machine with capacity 175 - 200 kilos per hour
Through the local industrial promotion capital, the Industrial Promotion Center built the project and supported the establishment to invest in the automatic filling and packing line of fish sauce. Thereby, it helps the establishment to improve production processes, improves production and trade efficiently, increases output and product quality, contributing to promoting economic restructuring in rural areas.
Ms. Huynh Thi Tuyet Mai, the owner of the facility, said that the 100 percent of new investment line, automatic filling and packing with a capacity of 175-200 kilos per hour. When using this line, compared to the previous traditional method, the capacity increases 5 times compared to manual production, about 700 - 800 jars per hour (depending on filling volume). The amount of extract in each container can be adjusted and there is no loss after each filling. Tighten the lid and seal the film evenly, keeping the product for a long time, product safety and increasing aesthetics, creating trust with consumers./.
By Mai Huong – Translated by Duc Tam
Source: https://baolongan.vn/long-an-kinh-phi-khuyen-cong-dia-phuong-ho-tro-day-chuyen-chiet-rot-dong-goi-mam-ruoc-tu-dong-cho--a125698.html