Long An National Assembly delegates visit and give gifts to families of victims affected by natural disasters in Tan Hung district
On November 18, 2020, the rain accompanied by a tornado occurred in Vinh Buu commune, completely collapsed 3 houses and speeded up the roof of a house of the households in 2 hamlets of Vo Van Be and Vam Gua. It was estimated total damage is about 133 million VND.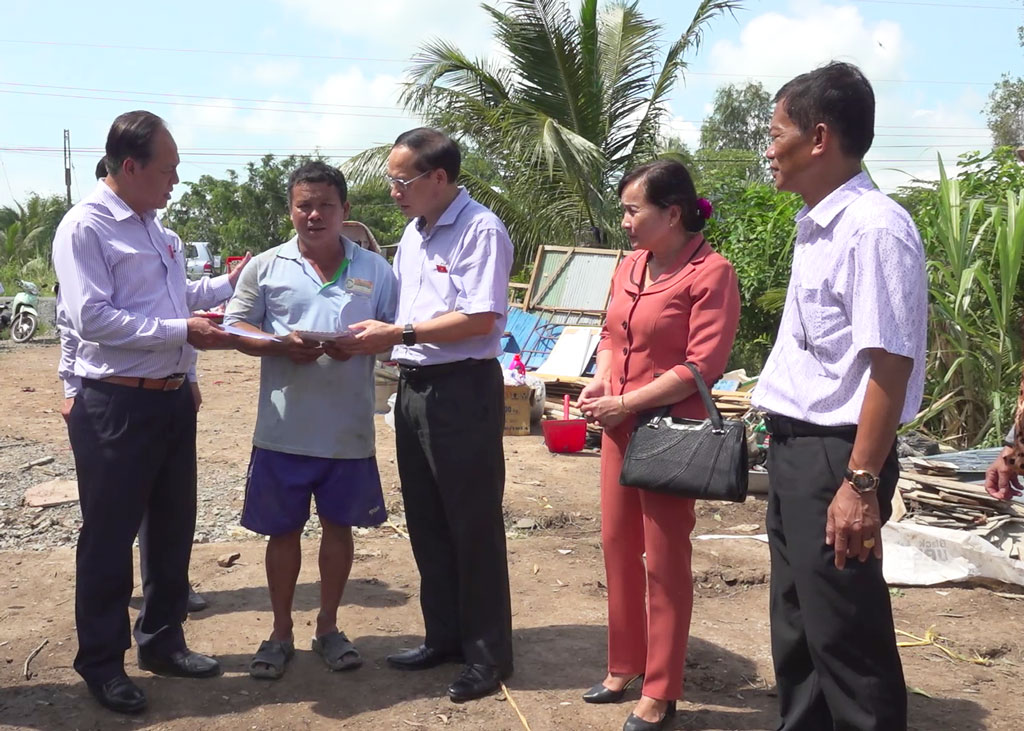 The delegation visits and supports the family of the victim whose houses were collapsed in Vinh Buu commune
To sympathize and share with the difficulties and losses of households, on November 19, 2020, the National Assembly member, session XIV, Long An unit includes Mr. Hoang Van Lien and Mr. Truong Phi Hung and leaders Tan Hung district visited and gave gifts to families of victims affected by natural disasters in Vinh Buu commune.
At each destination, the delegation graciously visited and asked about the health and life of the families; they encouraged the family to try to overcome the difficulties and rebuild the house to stabilize their life.
On this occasion, the National Assembly delegates and leaders of Tan Hung district donated money to households whose houses were collapsed and their roofs were blown off in Vinh Buu commune in order to help them have conditions to repair and rebuild their houses to live with peace of mind and develop family economy. The delegation also hopes that the local authorities continue to mobilize forces to support people to overcome the consequences of natural disasters and stabilize their lives soon./.
By Truc Quyen – Translated by Duc Tam
Source: https://baolongan.vn/dai-bieu-quoc-hoi-tinh-long-an-tham-tang-qua-cho-gia-dinh-nan-nhan-bi-anh-huong-thien-tai-tai-huye-a105876.html