Long An: National industrial promotion funds support Thanh Phu Long Cooperative with dragon fruit dryers
On November 30, the Department of Industry and Trade of Long An province, the Center for Industry and Trade Promotion (Industry Promotion Center), the Economic and Infrastructure Department of Chau Thanh district cooperated with Thanh Phu Long Agricultural Cooperative held the acceptance test and put into use the dragon fruit dryer.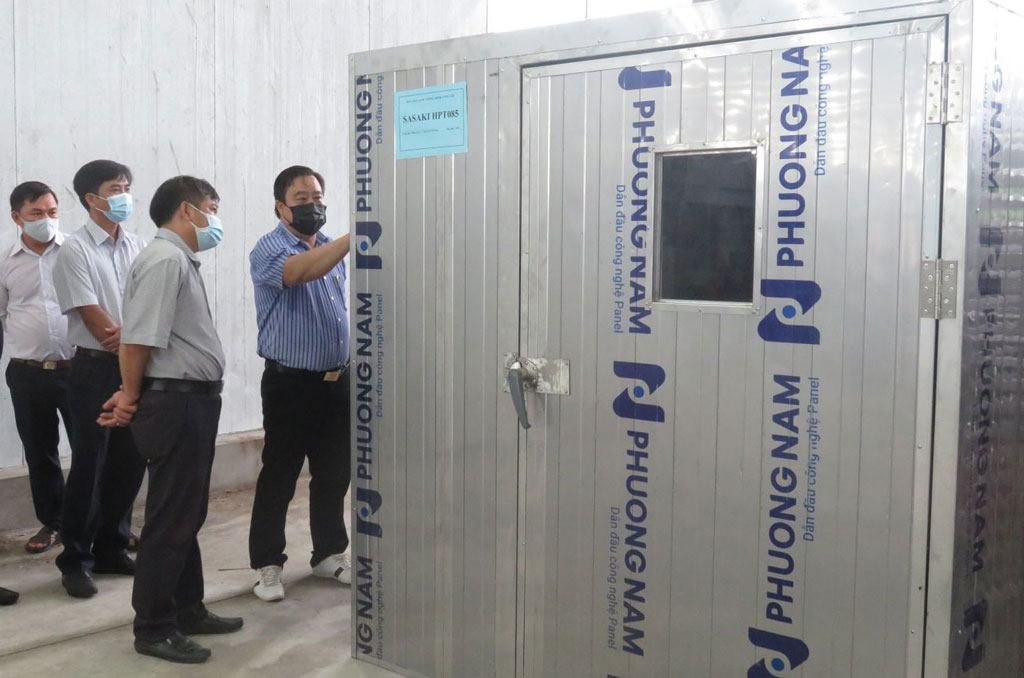 Delegates participate in the acceptance test of the dragon fruit dryer
This is one of the projects implemented by the Center for Industrial Promotion in collaboration with the Economic and Infrastructure Department and the Cooperative with the national industrial promotion budget in 2021. The project is part of the program "Supporting rural industrial establishments in Long An province to develop production of agricultural products in the period 2021 - 2023".
Accordingly, with support from the national industrial promotion budget, Thanh Phu Long Cooperative invested in buying a dragon fruit dryer. The total investment cost for purchasing the machine is 1.25 billion VND, of which the national industrial promotion fund supports 300 million VND, the rest is the reciprocal capital of the enterprise.
Chairman of the Board of Directors of Thanh Phu Long Cooperative - Nguyen Quoc Trinh said that the dragon fruit dryer is 100 percent new invested, with a capacity of 500 kilos per batch per 8 hours. The machine is manufactured in Vietnam, integrated with 3 technologies including freeze drying, heat drying and heat pump drying. The machine uses electricity with modern technology to save electricity and reduce environmental pollution. Dried dragon fruit is the optimal choice for deep processing, enhancing the value of dragon fruit.
After drying, dragon fruit still retains its flavor, color and nutritional content. In addition to dragon fruit, the machine can dry many other fruits such as mango, jackfruit, etc.
Director of the Center for Industrial Promotion - Tran Thanh Toan said that the project was implemented to support part of the funding for the cooperative to invest in applying advanced equipment to production. Thereby, the cooperative can increase production capacity, improve product quality, improve the efficiency of raw materials; increase revenue and profit, create more jobs for rural workers serving in the field of agricultural production and processing./.
By Mai Huong – Translated by Duc Tam
Source: https://baolongan.vn/long-an-kinh-phi-khuyen-cong-quoc-gia-ho-tro-htx-thanh-phu-long-may-say-thanh-long-a126366.html