Long An Provincial Party Committee Secretary - Pham Van Ranh has dialogue with beef cattle breeders in Duc Hoa
On September 6, Long An Provincial Party Committee Secretary - Pham Van Ranh chaired a dialogue with cooperatives and beef breeders in Duc Hoa district in the program of developing hi-tech applications in association with restructuring agriculture.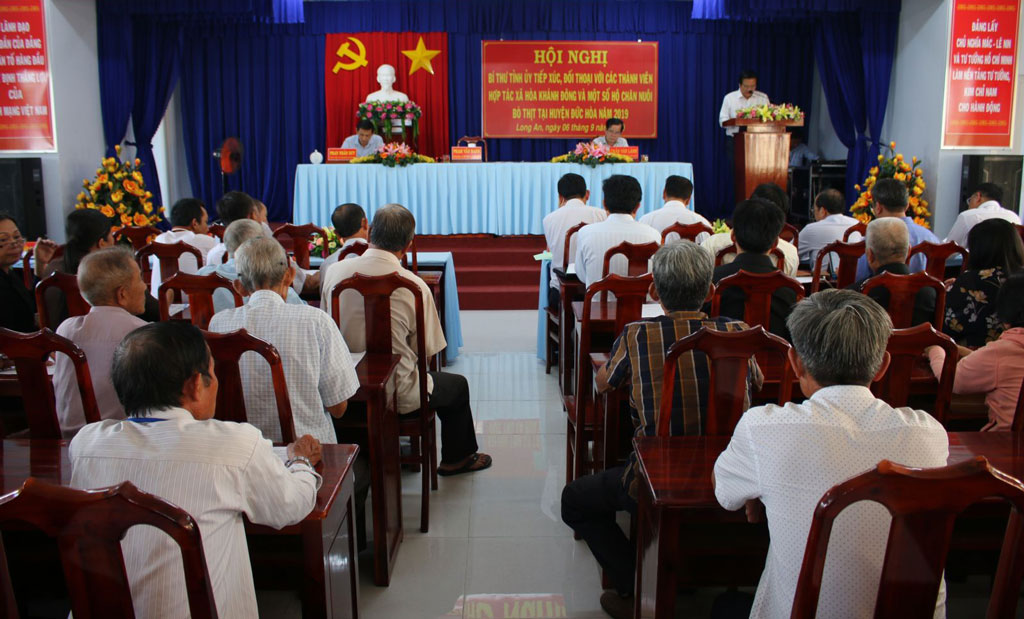 At the dialogue
Leaders of the provincial People's Committee, departments, branches, localities, representatives of Hoa Khanh Dong cooperative and farmers attended the meeting.
At the dialogue, representatives of cooperatives and farmers expressed their opinions on the process of production, breeding and consumption of beef cattle. According to the farmers, at present, breeding beef cattle is still very difficult, farmers do not have much information about high-quality cows, nutrition and the breeding methods.
Besides, the State's support policies for farmers are quite limited. Specifically, farmers are not supported electricity prices; the process of approaching policies to support livestock credit and consumption markets is still difficult, etc.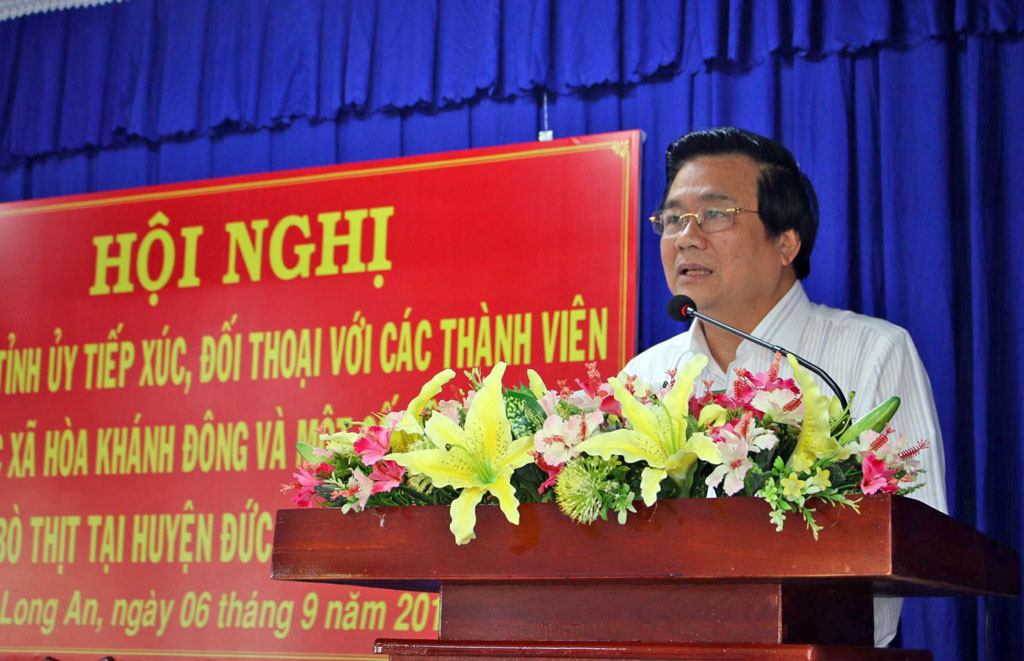 According to the Secretary of Long An Provincial Party Committee - Pham Van Ranh, farmers should change backward farming methods
Cooperatives and farmers requested authorities to provide specific information on the annual cooperative support policies on the quantity of bull semen, disinfectants for stable and high-yield grass; support the cooperative access businesses to establish sustainable value chains; have policies to support electricity prices, loans, farming techniques, and so on.
Representatives of local authorities and functional agencies answered questions of cooperatives and farmers.
According to the Secretary of Long An Provincial Party Committee - Pham Van Ranh, developing high-tech application agriculture in association with restructuring agriculture is one of two breakthrough programs of this term. In particular, beef cattle are selected in high-tech applications. Farmers should link with cooperatives, cooperative groups as well as change backward farming methods.
He asked the authorities and functional agencies to intensify the propaganda of supporting policies; improve cooperatives to develop dynamically and proactively, not relying on State support. Farmers should join cooperatives to work together and have favorable conditions in breeding and consuming beef cattle; invite businesses to invest in the high-tech beef farming areas of the province and support the consumption for farmers, etc.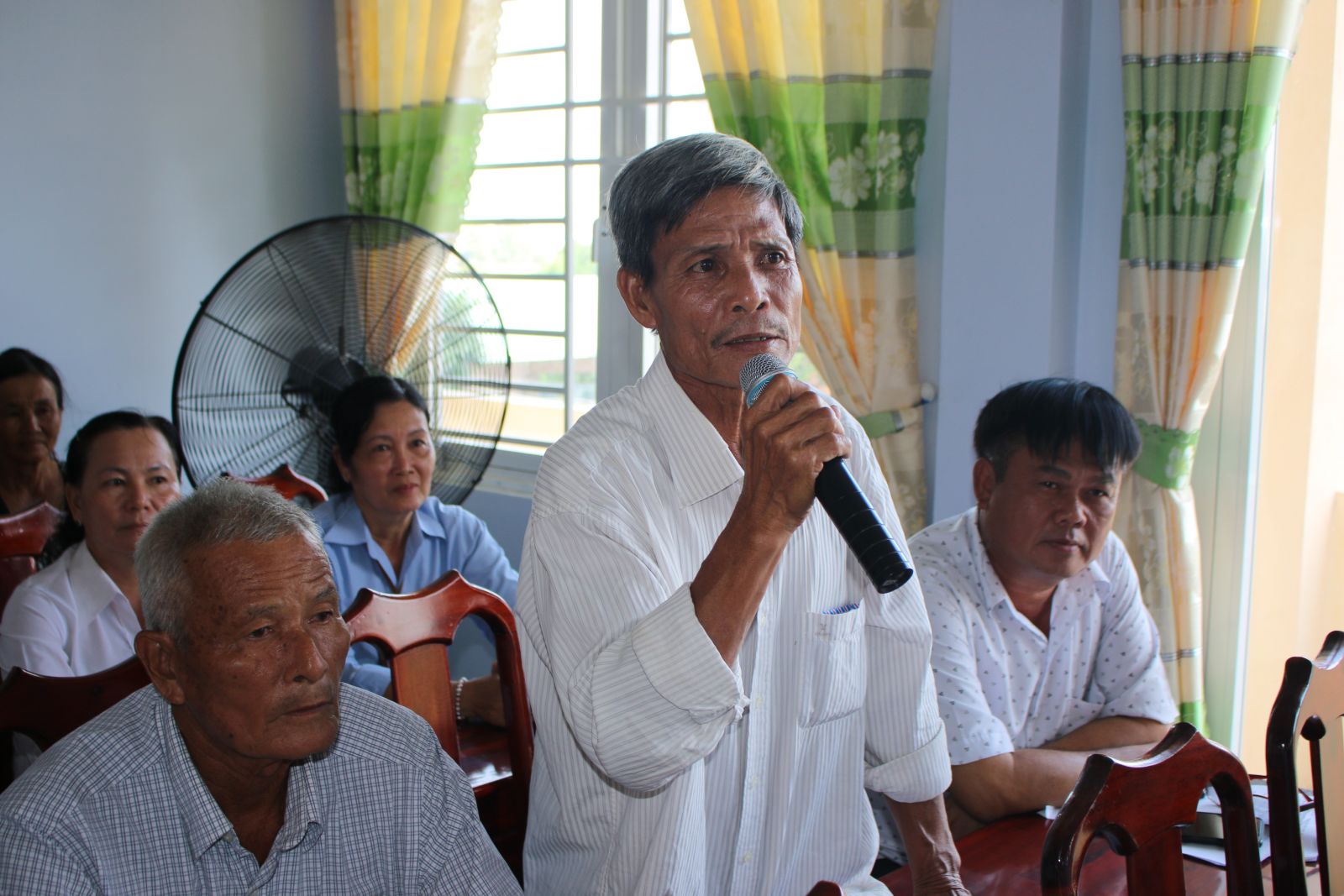 Farmers express their opinions
Since 2016, Long An province has implemented a project to develop high-tech applications associated with restructuring the agriculture sector; selected 3 major crops (rice, dragon fruit, vegetables) and beef cattle to focus on development. In particular, the province has strived to build high-tech beef cattle breeding areas in Duc Hoa and Duc Hue districts with a total herd of over 5,000 heads by 2020.
Up to now, the province has established 10 pilot models of beef cattle breeding applying high technology and advanced technology in the field of nutrition, veterinary, environment; gradually applied a good husbandry management procedure according to VietGAHP standards in 9 communes of Duc Hoa district and 4 communes of Duc Hue district. The State supported 157 cows, 105 machines (grass shredders, mixers and mowers), over 3,000 doses of high-quality beef cattle semen; and organizes training courses, technical advice for farmers, etc./.
By Van Dat - Translated by Pham Ngan
Source: http://baolongan.vn/bi-thu-ti-nh-u-y-long-an-pham-van-ranh-do-i-thoa-i-vo-i-nguo-i-nuoi-bo-thi-t-tai-duc-hoa-a81774.html