Minister calls for donors' housing support to poor, AO victims
Minister of Public Security General To Lam called on donors to continue joining hands to build houses for the poor and Agent Orange/dioxin (AO) victims, during the launch of a programme to give housing support to poor households and AO victims in the northern province of Hung Yen on March 13.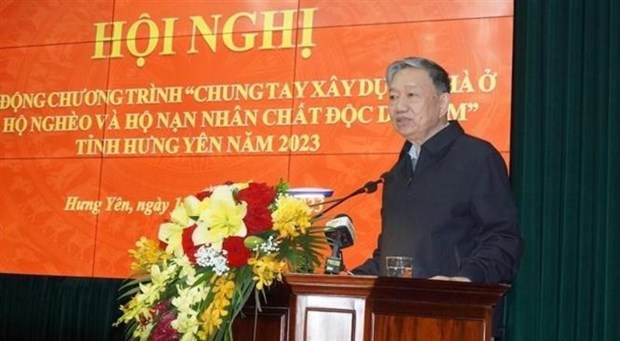 Minister of Public Security General To Lam addresses the event (Photo: VNA)
General Lam underlined the Party and State's special attention to poverty reduction and the ensuring of social welfare.
He said that so far, his ministry has built more than 12,000 houses for the needy and boarding schools across the country, adding he hopes Hung Yen province will work to spread the mutual support spirit in the local community.
Calling for contributions from organisations, individuals, businesses and donors to the programme, Chairman of the Hung Yen People's Committee Tran Quoc Van pledged to deliver the assistance to the right recipients in a transparent, effective, and timely manner.
He said that in the 2021-2025 period, the province aims to sponsor about 2,000 lonely poor people that are unable to escape poverty at a cost of about 5.2 trillion VND (220.52 million USD).
Currently, Hung Yen has more than 7,800 poor households and nearly 5,500 AO victims, including nearly 1,000 households living in damaged and downgrading houses, said the provincial leader.
At the launching ceremony, the programme received 64 billion VND from eight agencies.
Also on March 13, the Department of Medical Examination and Treatment Management under the Ministry of Health organised a conference to review a project to give healthcare and rehabilitation services to AO victims in the 2018-2022 period, which covers Hai Phong city and 10 provinces of Lao Cai, Thai Nguyen, Quang Ninh, Thanh Hoa, Nghe An, Ha Tinh, Quang Nam, Binh Dinh, Dong Thap and Ben Tre.
To date, the project has completed all of its basic targets, providing health supervision to 35,871 victims who are descendants of first-generation ones, while giving regular medical screenings to victims and their offspring.
Particularly, in the AO hotspots in Phu Cat and Ngo May districts of Binh Dinh province, the project has provided health care examination and management services to 10,761 people living there.
Deputy Minister of Health Tran Van Thuan asked relevant agencies and localities to multiply effective community-based models to provide healthcare and rehabilitation services to AO victims and people with disabilities, while combining the activities with other medical programmes in the localities./.
VNA