Ministry of Finance announces decisions to establish regional tax departments
On September 30, Minister of Finance - Dinh Tien Dung chaired an online conference to announce the Decisions of Minister of Finance on merging Tax Departments (TDs) to set up regional TDs under 35 provincial Tax Departments in phase 3 of 2019.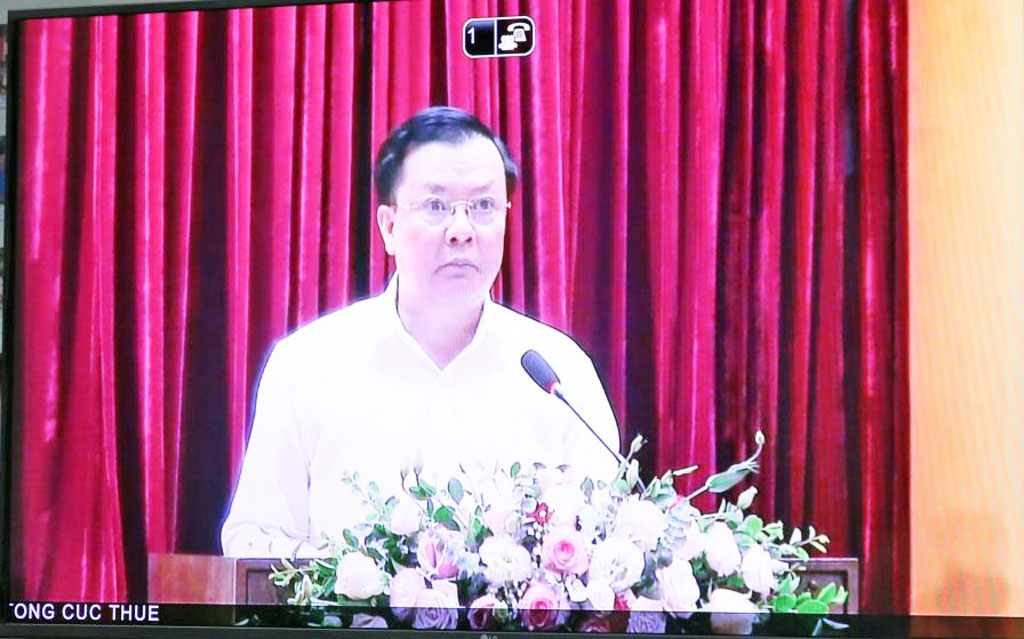 Minister of Finance - Dinh Tien Dung speaks at the conference
According to Resolution 18-NQ/TW, dated October 25, 2017, the tenure-XII Central Executive Committee, prescribes some issues on the continued renewal and organizational structure of the minimized political system to work effectively; On April 13, 2018, the Minister of Finance issued Decision 520 on approving the Plan to deploy, reorganize and merge TDs of districts, towns and cities into regional TDs under the Tax Department of provinces and cities under the Central Government.
According to Decision 520/QD-BTC, the plan to merge district-level TDs to establish regional TDs in 2018-2019 is to merge 380 TDs to establish 179 regional TDs, decreasing 201 TDs.
In 2018, the Ministry of Finance implemented pilot, established regional TDs in 6 localities; accordingly, merging 34 TDs to establish 16 regional TDs, decreasing 18 TDs. In the process of implementation to withdraw experience and replicate the implementation nationwide.
From the beginning of 2019 to now, the Ministry of Finance has implemented two arrangements to establish regional TDs for 25 provinces. In August and September 2019, the Minister of Finance signed 35 decisions to set up regional TDs under 35 provincial and municipal TDs. The newly established regional TDs will be officially put into operation on October 2019.
Thus, by the end of September 2019, the General Department of Taxation unified 401 TDs of 61 provincial and municipal Tax Departments to establish 190 regional TDs, reducing 211 TDs. The number of TDs in the country has been reduced from 711 TDs to 500 TDs, along with 211 TDs cuts, 1,500 tax groups have been cut.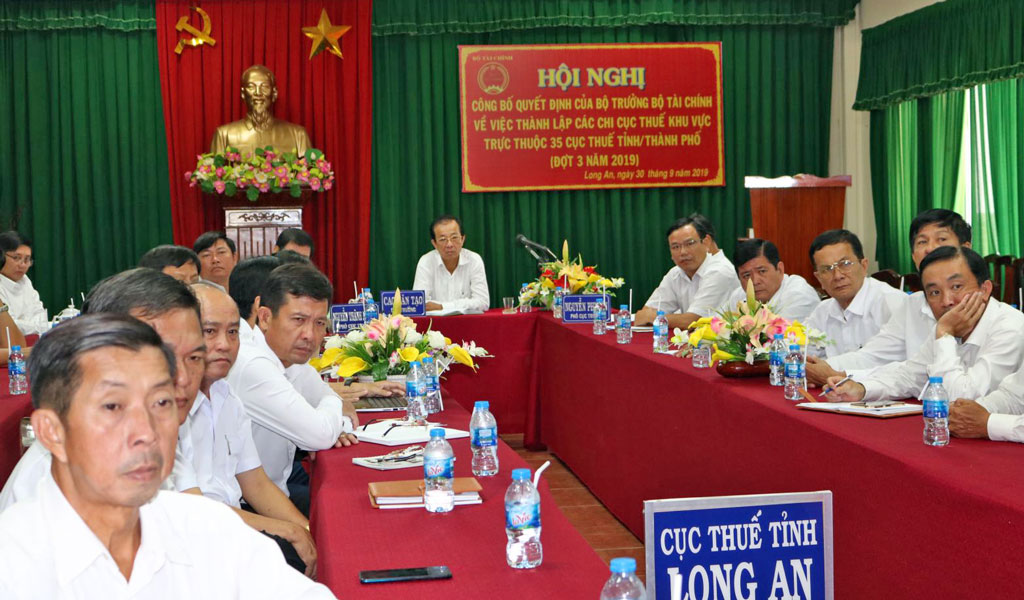 Leaders of the Tax Department of Long An province attend the online conference
Long An province has established 6 regional TDs on the basis of merging 12 provincial-level TDs, including TDs of Duc Hoa - Duc Hue; Tan Thanh - Thanh Hoa; Kien Tuong - Moc Hoa; Vinh Hung - Tan Hung; Chau Thanh - Tan Tru; Tan An - Thu Thua. The above TDs officially came into operation on August 5, 2019. So now, Long An has 6 regional TDs and 3 district ones including Ben Luc, Can Duoc and Can Giuoc under the provincial Tax Department.
Minister of Finance - Dinh Tien Dung proposed that the Tax Departments of provinces and cities should carry out a series of tasks, from organizing the apparatus and combining human resources to minimize the payroll, reduce the cost of the Tax agency but ensure that the newly established regional TDs work better and more efficiently, while creating more favorable conditions for taxpayers to fulfill their duties to the State budget./.
By Song Hong – Translated by Duc Tam
Source: http://baolongan.vn/bo-tai-chinh-cong-bo-cac-quyet-dinh-thanh-lap-chi-cuc-thue-khu-vuc-a82962.html