PM's visit reflects special ties between Vietnam, Singapore: ambassador
Vietnamese Ambassador to Singapore Mai Phuoc Dung has highlighted the significance of Prime Minister Pham Minh Chinh's coming official visit to the city state, the first among many events to be held in both countries to mark the 50th anniversary of their diplomatic ties and 10 years of the strategic partnership.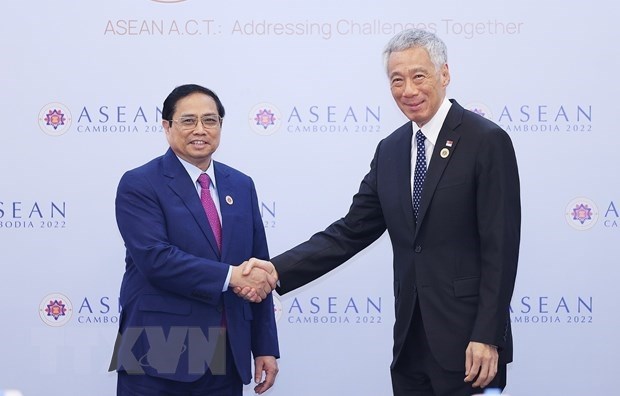 PM Pham Minh Chinh (L) and his Singaporean counterpart Lee Hsien Loong meet on the sidelines of the 40th and 41st ASEAN Summits and related meetings in Phnom Penh, Cambodia, in November 2022. (Photo: VNA)
PM Chinh, his spouse, and a high-ranking delegation of Vietnam are paying an official visit to Singapore from February 8 to 10.
Dung said the trip follows the mutual visits by the heads of the two states in 2022, reflecting the special mutual political trust and relations between the countries.
Looking back on achievements in bilateral relations, he said over the last 50 years, especially since the establishment of the strategic partnership 10 years ago, the two countries have enjoyed strong cooperation across the board, from politics, diplomatic, defence, and security to people-to-people exchange.
Singapore currently ranks first among Southeast Asian investors and second among global ones in Vietnam. Among the large number of its projects in Vietnam, 11 Vietnam - Singapore Industry Parks (VSIPs) with total investment of over 11 billion USD nationwide are providing jobs for more than 300,000 people.
During the coming trip, he noted, the two PMs will discuss concrete measures for implementing the cooperation documents on digital transformation and clean energy signed last year. These are the fields matching Singapore's strength and Vietnam's demand.
Both sides may also renew a memorandum of understanding on educational cooperation that expired in 2017 and sign an agreement on search and rescue in the field of defence.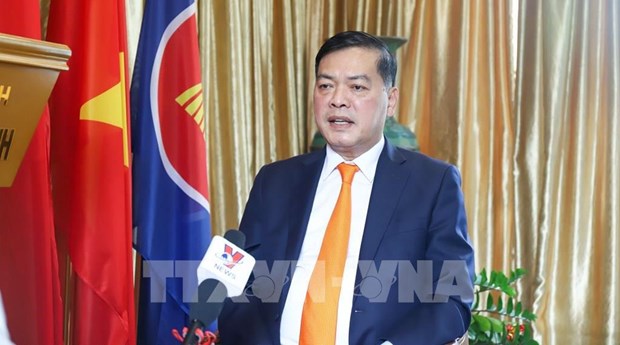 Vietnamese Ambassador to Singapore Mai Phuoc Dung grants an interview to the Vietnam News Agency. (Photo: VNA)
Giving further information about connections in digital transformation and clean energy, the ambassador said they inked a deal on digital partnership during then President Nguyen Xuan Phuc's visit to Singapore in February 2022 and another on cooperation in clean energy during President Halimah Yacob's trip to Vietnam in October the same year.
As soon as the digital partnership agreement was signed, Vietnam sent a delegation of specialists to Singapore to look into cooperation in e-government building. Besides, the Vietnamese Ministry of Public Security sent specialists to learn the city state's experience, and Singaporean experts also came to help Vietnam carry out digital transformation in the making of electronic identity cards. They are also working together to develop a national data centre for Vietnam.
Regarding the agreement on energy cooperation signed last October, the two countries are setting up a working group to create a roadmap for implementing it. However, the progress remains slow, he pointed out, voicing his hope that PM Chinh's visit will help speed up this cooperation./.
VNA