Public security force discusses operations in 2018
The Standing Committee of the Public Security's Party Central Committee held a review conference in Hanoi on November 28, to assess the police force's operations in 2018 and discuss the orientation for their activities next year.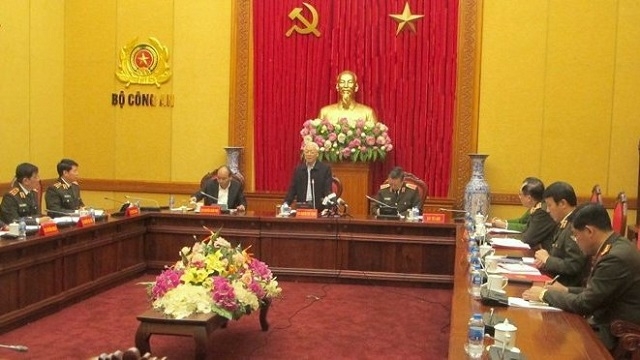 Party General Secretary and State President, Nguyen Phu Trong, speaks at the conference. (Photo: NDO/Bac Van)
In the presence of Party General Secretary and State President Nguyen Phu Trong and Prime Minister Nguyen Xuan Phuc, the event also evaluated the results of the one-year implementation of Resolution No. 18, adopted by the sixth session of the 12th National Party Congress, defining the renovation and rearrangement of the apparatus under the political system to ensure efficiency, as well as Resolution No. 22 by the Politburo on continuing to renovate and rearrange the apparatus of the Ministry of Public Security in a streamlined, effective and efficient manner.
After surveying the reports discussing the aforementioned issues, General Secretary and State President Trong and PM Phuc praised the efforts made by the People's Public Security force in ensuring the national security and order during the year.
The senior leaders affirmed that the prevention and fight against crimes gained positive results, exceeding the set target by the National Assembly (the rate of criminal investigation was 82.58%, higher than the National Assembly's set target of 12.58%). The Party building work and streamlining of the force's apparatus towards efficient operations have been drastically directed and effectively implemented.
General Secretary and State President Trong suggested that the Central Party Committee of the Public Security force be subjective and remain aware of conspiracies by enemy forces as well as internal issues. It is necessary to promote communication campaigns in order to affirm the achievements and the great role of the police force, thereby fighting against allegations of misrepresentation and reinforcing the trust of the people in the force.
Regarding the implementation of Resolution 18 and Resolution 22, the Part chief and State president stated that the police force has make a solid and effective step in realising the documents. In the future, it is necessary for the force to continue to strongly implement the resolutions towards a streamlined and effective operational apparatus.
The senior leader also urged the Central Party Committee of the Public Security force to concentrate on directing the implementation of drastic measures to build a strong and clean body, while promoting the role of the units' leaders in respecting discipline and promoting their responsibilities in their work for others to follow./.
NDO