Spreading trend of consuming Vietnamese goods
Over the past time, along with programs to support businesses, production facilities to build brands, the Long An Department of Industry and Trade also mobilized retailers and business households to increase to sell Vietnamese quality goods with stable price. Thereby, it contributed to spreading the consumption trend and increasing the proportion of Vietnamese products in distribution channels.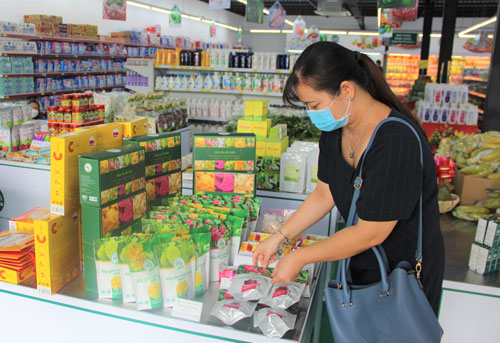 The brand name of Vietnamese goods are constantly built and maintained
In order to improve the quality and effectiveness of the campaign "Vietnamese people give priority to using Vietnamese goods", the Department of Industry and Trade has been promoting trade promotion; implementing programs to support production facilities, businesses to build brands as well as connect consumption of key goods and products to supermarkets, convenience store systems inside and outside the province.
At the same time, the Department of Industry and Trade creates conditions for businesses to organize more Vietnamese selling sites, combined with sales to stabilize the market. It is worth noting that Vietnamese selling sites have created a stable supply of goods for distribution systems, bringing quality Vietnamese products to consumers. Then, they have created a positive change, increasing the percentage of Vietnamese products in distribution systems to over 90 percent, contributing to spreading the trend of consuming Vietnamese-branded products to consumers.
Director of San Ha Co., Ltd. - Pham Thi Ngoc Ha shared: "In order to stabilize the purchase and sale as well as let customers feel secure to buy goods at the company's stores, we not only strictly follow the principle of on epidemic prevention and control, but also focus on selecting suppliers, especially reputable Vietnamese brands for business cooperation. Currently, the consumer goods sold at our stores are more than 90 percent Vietnamese products and all are clear about the origin and origin, with traceability stamps for consumers to easily find out the product".
Ms. Nguyen Thi Lan - owner of a Ba Lan grocery store (Tan Tru townlet, Tan Tru district), said: "Currently, customers are very concerned about quality and food safety and hygiene issues. Therefore, most customers prefer to choose reputable products in the market to use, especially products of Vietnamese origin because of their reasonable prices and peace of mind when using. According to Ms. Lan, this year, despite being affected by the Covid-19 epidemic, to meet the needs of customers, especially during the Tet shopping season, the store still provides a full range of essential and priority items selling Vietnamese products at convenient and easy-to-find places.
According to Deputy Director of the Department of Industry and Trade - Chau Thi Le, up to now, the province has 1 trade center, 7 supermarkets, 125 markets and 214 convenience stores that prioritize the distribution of products of Vietnamese origin. In which, there are 127 trade establishments with stable selling sites (4 supermarkets, 121 convenience stores, 2 department stores) creating favorable conditions for businesses and business households to participate in selling activities. price-stabilizing mobile goods to supply essential goods; at the same time, they create output for food and food products of the province.
"In the coming time, in order for the campaign "Vietnamese people prioritize to use Vietnamese goods" to go into depth as well as create a firm foothold for Vietnamese goods in the domestic market, the Department will continue to promote support for local businesses. Enterprises and production facilities of Vietnamese goods promote trade, promote brands, develop distribution systems, especially promote the putting of agricultural products of the province on the e-commerce floor.
In addition, the Department also cooperates with relevant departments and branches to strengthen the inspection and control of the market, combating counterfeit goods, poor quality goods, goods of unknown origin; step up the inspection and inspection of standards, measurement and quality in order to detect and promptly handle fraudulent acts, contributing to protecting the legitimate interests of enterprises and consumers.
Thereby, it creates a sustainable production - consumption chain, increasing market share of Vietnamese goods in distribution channels and ensuring an abundant supply of goods with stable output and prices, well serving consumer demand of the people in the context that the epidemic is still complicated, especially in the Tet shopping season at the end of the year", Ms. Le informed./.
By Bui Tung – Translated by Duc Tam
Source: https://baolongan.vn/lan-toa-xu-huong-tieu-dung-hang-viet-a128763.html