Strengthening to prevent, control crime and law violations in field of information and communication
On March 16, the Department of Information and Communications of Long An held an online conference to review the 2-year implementation of the Regulation on coordination of crime prevention and other law violations in the field of information and communication in the locality. In the province (April 7, 2017, the provincial People's Committee issued Decision No. 1257, issuing the regulations).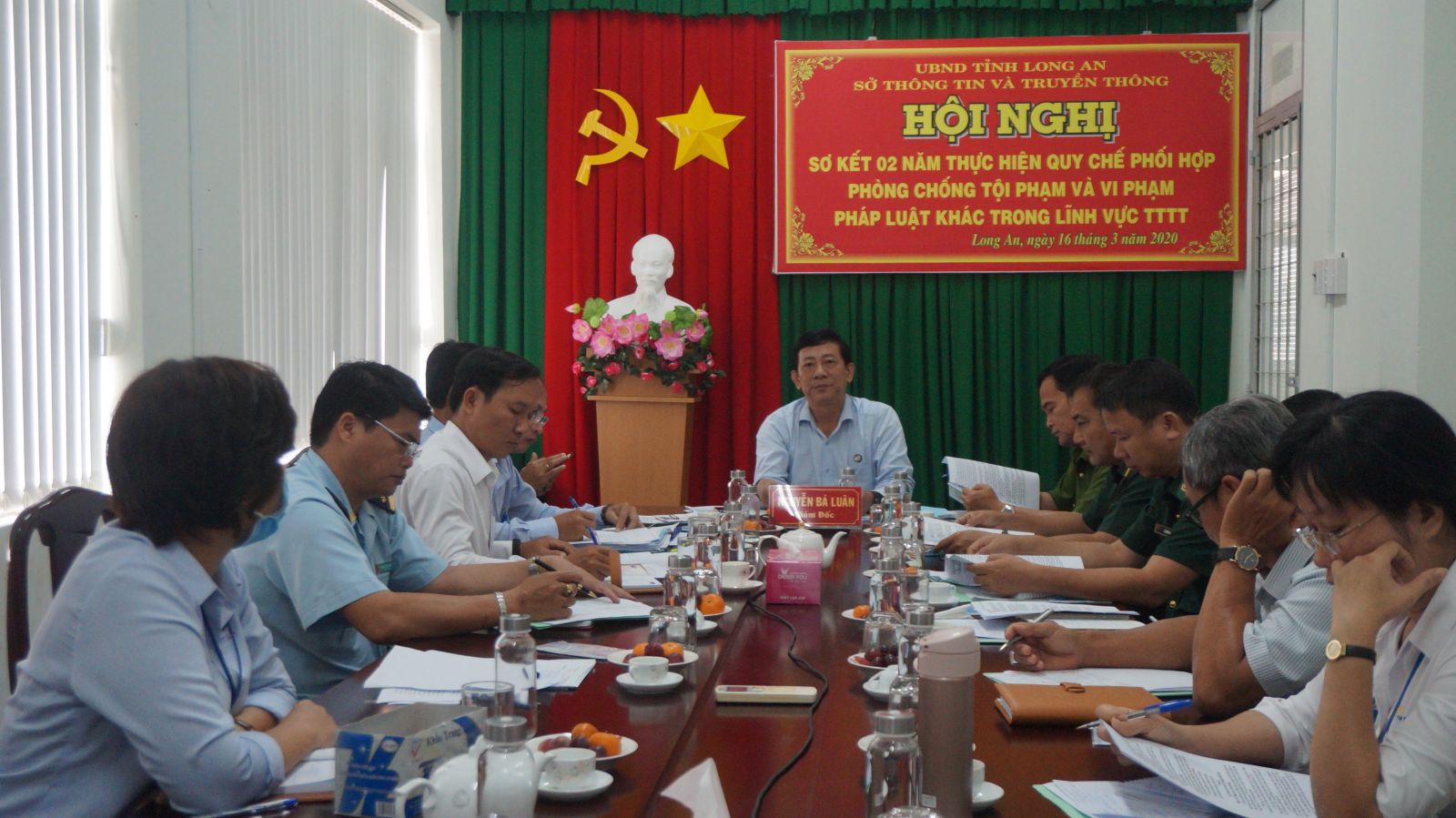 Director of Department of Information and Communications - Nguyen Ba Luan presides over the conference
According to the report at the conference, in the past 2 years, the Department of Information and Communications has presided over and coordinated with relevant agencies and units in preventing and fighting against law violations and crime on the internet.
Accordingly, 149 inspections were organized; 98 people were fined for administrative sanctions with the total amount of nearly 300 million VND; 8 social network users had the signs of law violation such as misrepresentation, slander, or insult of the reputation of the organization, honor and dignity of individuals. It checked and recommended the Ministry of Information and Communications to remove or block 5 Facebook pages with illegal content.
In addition, the provincial police has worked, educated, and asked to write commitment not to repeat these action for 37 people who posted, shared negative and untrue information, incited people against the government and protest the Law on Security network.
At the conference, the delegates said that although the agencies and units has strengthened to detect and handle with information violations, the achieved results are still limited. There has not been effective measures to take advantage of people who take advantage of the internet and social networks to bring false information, incite against the government; offend the reputation of the organization, honor and dignity of the individuals.
Coordination is sometimes embarrassing, less proactive and regular. The inspection and handling with violations between provincial and district levels only take place one-way or mainly between provincial agencies and units in coordination with each other.
Director of the Department of Information and Communications - Nguyen Ba Luan said that the Department, branches and localities continue to strengthen the propaganda, dissemination and education of the law on information and communication. They renewed forms and selected propaganda contents suitable to each people and locality in the coming time. They performed well the speech and provide information to the press, timely struggle, oppose wrong viewpoints, misrepresentations about the Party's guidelines, the policies and laws of the State, and false information. At the same time, the functional forces work closely to strengthen the inspection and the specialized inspection of information and communications and resolutely handle with violations./.
By Le Duc – Translated by Duc Tam
Source: http://baolongan.vn/tang-cuong-phong-chong-toi-pham-va-vi-pham-phap-luat-trong-linh-vuc-thong-tin-va-truyen-thong-a91924.html