Tan An - 'Promised land' in attracting investment
Tan An city is the center of politics, economy, science, technology, culture and also the traffic hub of Long An province. The city is recognized as a grade-II city directly under the province and has completed the task of building a new-style rural, and is gradually moving towards a grade-I city in the future. With the existing potentials, Tan An city hopes to be an attractive destination, attracting investors, contributing to the overall socio-economic development of the province.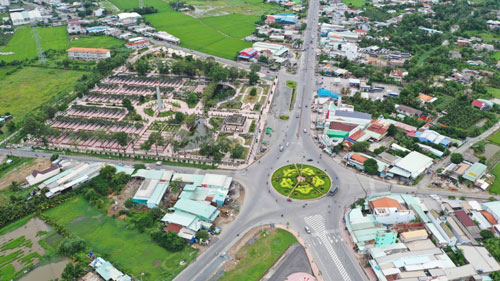 Urban technical infrastructure is increasingly invested synchronously, creating favorable conditions for local socio-economic development
Young city rich in development potential
Tan An city is considered as one of the satellite urban, the gateway connecting Ho Chi Minh City and the southwestern provinces. Tan An is also an important traffic hub, in addition to National Highway (NH) 1 to Ho Chi Minh City and the western provinces, there is also NH 62 to Dong Thap Muoi region. Besides, the HCM City - Trung Luong Freeway is also one of the important routes, facilitating the circulation and driving force of the city's development.
Currently, the city's infrastructure is increasingly invested in spacious, clean and beautiful. The mobilization of resources to perform the task of economic development associated with ensuring social welfare has been well implemented. Many key projects have been invested, contributing to urban landscape and beauty, promoting socio-economic development. The city focuses on investing in 24 important projects/works such as anti-flood projects for the inner city; widen the intersection of NH 62 - Hung Vuong; Embankment of Vam Co Tay river; etc.
In particular, the key works according to the Resolution of the Provincial Party Congress are located in the city (Ring Road of Tan An City) and the key works according to the Resolution of the XIth City Party Congress, term 2020 - 2025 (Ward 2 Park - phase 2, Bao Dinh river embankment from Bao Dinh sluice to Ring canal culvert and anti-flood drainage system in the inner city) are all related to traffic development. The completed works help the infrastructure system to be complete and synchronous, creating momentum for Tan An city to grow and prosper.
Opportunity for investors
According to Chairman of Tan An City People's Committee - Nguyen Quang Thai, this year, despite the complicated situation of the Covid-19 epidemic, the city still achieved such remarkable results as total budget revenue in 2021 is estimated at 763 billion VND. (reaching 90 percent of the plan assigned by the province); During the year, there were 3 urban residential development projects completed and put into use (Vam Co Tay riverside urban project - ward 6, Tan Do residential area - ward 4 and ecological urban project - Binh Tam commune). Other projects are continuing to implement site clearance items. The city is committed to always accompanying and supporting businesses to overcome difficulties in production and business; speeding up the construction progress, disbursement of capital for capital construction; strengthen inspection, restore urban order, preserve environmental sanitation; improve administrative reform index, well implement control of administrative procedures.
Secretary of Tan An City Party Committee - Le Cong Dinh said that the leadership and administration of the Standing Committee of the City Party Committee is associated with the implementation of the Resolution of the XIth City Party Congress, term 2020 - 2025 in order to build, Tan An city development is really a "promised land" for investors. In particular, year 2021 is also the first year of implementing and implementing the Resolution of the City Party Congress for the term 2020 - 2025; the first year of implementing the Program to promote all resources for construction and development of Tan An city, basically reaching the criteria of a grade-I city by 2025 in the direction of a friendly, civilized and modern city. The city makes great efforts in approaching investors, capturing ideas and exchanging ideas in order to complete the set tasks; strengthen coordination between departments and branches to provide professional guidance, combine and complete reports to the Provincial People's Committee to submit to the Provincial People's Council for resolution on issues related to legal documents on land, planning, contributing to promoting attracting and mobilizing resources to jointly build and develop the city.
Tan An city has achieved grade-II city directly under the province, completed the task of building a new-style rural and is trying to perfect the criteria to achieve grade-I city in the future. As one of the leading localities of the province in terms of urban planning, the city also orients to develop urban space with the North subdivision, the central urban area and the South subdivision in order to plan and implement the investment projects, urban development, effective urban construction order management as well as attracting all economic sectors to participate in investment.
Tan An City - a young city is gradually transforming, gathering many large-scale projects with fast and strong development speed, policies to attract and encourage investment in many fields. With these efforts, Tan An promises to be a bright spot in terms of investment attraction, growing stronger, and comprehensively developing socio-economically./.
LIST OF PROJECTS CALLED FOR TAN AN CITY INVESTMENT AND DEVELOPMENT (period 2021 - 2025)
1. Hung Vuong Street Extension Project (phase 2)
Objectives: Maximize the role and potential of land in combination with effective exploitation and advantages of the location of the central residential area connecting the subdivisions in the general structure of the urban area. Maximize efficiency of infrastructure connection through investment in construction of Hung Vuong Street (extension) ensuring compliance with the approved planning. Form ecological urban areas, public service centers; commercial - service - entertainment center combined with general infrastructure embellishment.
Scale: 64.4 hectares; in Ward 3 and Binh Tam Commune.
2. Service Urban Area Project in Ward 5 and Huong Tho Phu Commune
Objectives: Form an ecological, model and modern residential area in combination with the formation of a regional commercial and service center. Exploit the strengths of the gateway location to the city center; form an important landscape and architectural highlight for the area.
Scale: 60.2 hectares; in Ward 5 and Huong Tho Phu Commune.
3. Bao Dinh River New Urban Area Project
Objectives: Invest in and decorate level 4 infrastructure in the area combined with the formation of a modern urban spatial axis (a river eco-urban along the Bao Dinh river, a high-rise urban area with a low land use coefficient). Locate, arrange and build into residential areas, public service centers, mixed-use apartments, commercial houses, etc., combined with the formation of parks and miniatures to create specific architectural modern, ecological and sustainable features.
Scale: 38.2 hectares; in ward 7.
4. Residential and urban projects along both sides of the City Ring Road
Objectives: Form a model and modern urban area in combination with embellishment, investment and infrastructure upgrading to ensure general synchronization. Exploit and effectively use the urban - commercial land fund along both sides of the City Ring Road. Increase benefits, convenience, improved quality of life and highly competitive products after being formed, attracting people's attention, improving real estate value for Tan An City.
Scale: 583 hectares; in Tan Khanh ward.
5. Residential Area Project along Vam Co Tay River
Objectives: Exploit strengths along Vam Co Tay River; especially closely following the spatial axis of the landscape with the characteristics of the Mekong Delta. Form convenience trade centers and convenience stores in combination with modern trends; construction and development of high-rise buildings, modern scale to create highlights along the river.
Scale: 36.7 hectares; in ward 5.
6. Site clearance project to create a clean land fund along both sides of the (extended) Tran Van Thien street to arrange resettlement areas and develop urban areas
Objectives: Create a clean land fund for functional zoning, form residential units in combination with creating a clean land fund to call investors to build commercial and service zones to meet the living and production needs of people. Combine investment and urban embellishment. Create a clean land fund for investment and development to create capital to increase revenue for the state budget; effectively exploit natural resources and land in the area.
Scale: 11.91 hectares; in ward 5.
By Pham Ngan – Translated by Duc Tam
Source: https://baolongan.vn/tan-an-mien-dat-hua-trong-thu-hut-dau-tu-a127517.html