Three bodies found at landslide-hit site
Rescuers on October 15 found bodies of three victims at the site of the Song Bo forest rangers' office in the central province of Thua Thien-Hue, where 13 members of a working team went missing after the building was buried in landslides.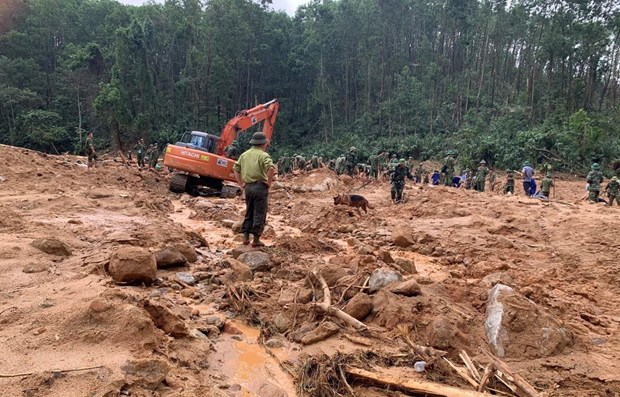 Rescuers search for victims who went missing after the forest rangers' office was buried in landslides (Photo: VNA)
The victims' identities are yet to be known.
Rescuers had managed to pinpoint the location of the working team. Equipment and sniff dogs have been mobilised to support search efforts.
Heavy rains are projected in the area in the coming days.
A team from the public security force of Thua Thien-Hue used boats and canoes to access the Rao Trang 3 hydropower plant through the Huong Dien hydropower reservoir in Huong Binh commune, Phong Dien district.
The Rao Trang 3 and 4 hydropower plants have been isolated by flooding and landslides since October 12. On the evening of October 13, Nguyen Dai Thanh, director of the Rao Trang 3 hydropower plant, confirmed three deaths linked to landslides on October 12.
A 21-strong search and rescue team, including local officials and the military, were also hit by a landslide on their way to Rao Trang 3 on October 13, leaving 13 missing, while eight others managed to escape.
Seventeen workers at Rao Trang 3 are also missing after the landslide. About 40 workers there have been safely moved to the Rao Trang 4 plant, which was reached on the evening of October 13 by a team from the provincial./.
VNA