Vietnam to receive Chinese tourists starting March 15
The Chinese Government has decided to add Vietnam into the list of countries to which China's group tours can be conducted starting from March 15, according to Peng Shituan, Cultural Counselor of the Chinese Embassy in Vietnam.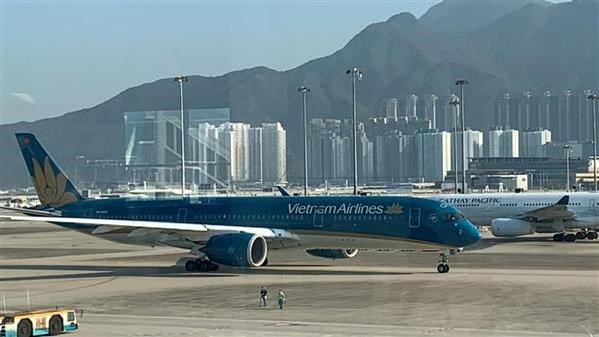 A Vietnam Airlines aircraft at Hong Kong International Airport in Hong Kong (China). (Photo: VNA)
At a working session with Nguyen Phuong Hoa, head of the International Cooperation Department under the Ministry of Culture, Sport and Tourism, Peng affirmed that China and Vietnam enjoyed strong tourism cooperation before the COVID-19 pandemic broke out, benefiting the people of both countries and practically contributing to the reinforcement of the friendship between the two countries.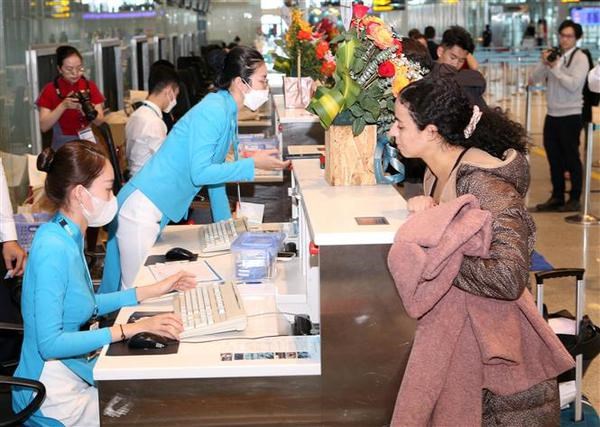 Passengers check in for flights in the newly-launched Da Nang-Taipei route. (Photo: VNA)
The process of restoring international tourism is convincing and encouraging, he said, adding that Vietnam will be one of the countries prioritised for China's resumption of direct air routes with passengers being not required to show their SARS-CoV-2 PCR negative testing results. Visitors entering the country only need to provide quick test results or engage in 2% probability test, he added.
The Chinese side hopes to continue to work closely with Vietnam in ensuring the legitimate rights of tourists in each country, he stated.
For her part, Hoa welcomed the Chinese side's adjustments in bilateral tourism cooperation and said she hopes the two sides will continue to collaborate closely to boost the growth of bilateral tourism cooperation in a healthy and practical manner./.
VNA