More than 1 billion USD retrieved from corruption, economic violations
The Ministry of Public Security's Investigation Police Department on Economic, Corruption-related Crimes and Smuggling retrieved nearly 27 trillion VND (1.16 billion USD) from corruption and economic violations in 2018.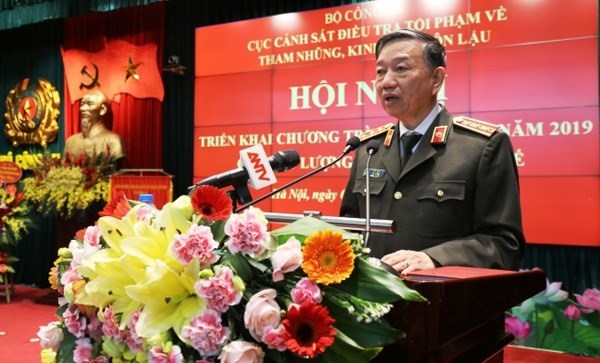 Minister of Public Security To Lam speaks at a meeting to review 2018 performance and prepare for 2019. (Photo: cand.vn)
The figure represents nearly 50 percent of the total estimated damage caused by the violations and an 18 percentage point increase from the funds recovered in 2017, the department revealed at a meeting held recently to review its 2018 performance and prepare for 2019.
Of the figure, nearly 2.9 trillion VND was recovered from corruption cases.
Minister of Public Security To Lam spoke highly of the efforts of the department's staff, saying they recorded progress in discovering economic and corruption crimes and in retrieving assets from these cases.
However, he said shortcomings remained and the department should review them and use their findings to improve the fight against corruption and smuggling.
He instructed the economic police to familiarise themselves with Party and State guidelines on combating corruption and economic crimes and to improve consultancy work for the ministry, the Party and the State.
The year of 2019 is set to be a key period in the fight against these crimes, as Vietnam has integrated deeper into the global economy. Lam said the department must have an active, long-term vision for combating economic, corruption and smuggling crimes.
The department should focus on measures to speed up the investigation of key economic and corruption cases and the recovery of assets, he said.
It was also necessary to closely follow the socio-economic developments of the Government in 2019 and beyond to prevent and punish crimes, thereby contributing to fulfilling the Government's targets and combating corruption and wastefulness, he said./.
VNS/VNA