National action month on food safety to begin on April 15
The National Action Month on Food Safety will take place from April 15 to May 15 with the theme of "Say no to fake and substandard food and protect customers' rights".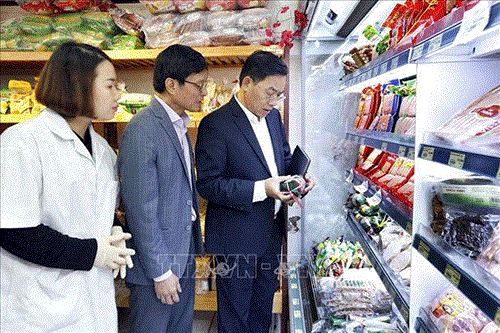 Inspectors from the Hanoi Department of Health check food safety at a supermarket in Hoan Kiem district (Photo: VNA)
Experts from the Vietnam Food Administration (VFA) under the Ministry of Health noted that substandard food would have long-term consequences on people's health.
Last year, market watchdogs across the country conducted more than 14,200 inspections, according to incomplete statistics from the VFA. As many as 8,400 cases were fined a total of 19.5 billion VND (839,800 USD).
Environmental police also discovered more than 6,100 food-safety violations. More than 5,000 individuals and more than 800 organisations were punished.
The action month's activities will include an education campaign that will call for everyone to obey food-safety regulations in food production and trading.
All people in the country should be proactive in preventing food pollution to limit the number of food poisoning cases and the spread of disease via unsafe food, the national steering committee said.
The People's Committees at different levels should give guidance and assign more teams to inspect food safety and improve coordination between local authorities and social organisations in ensuring food safety and hygiene, it added.
Provinces and cities in the country will organise launch ceremonies and educational activities related to the action month./.
VNA/Recorded by LAO