Technology applied into farming fields
An Long Agricultural Cooperative that was stablished in 2018 in An Ninh Tay commune, Duc Hoa district, Long An province gradually asserted itself, it has contributed to bringing technology into the farming fields, gradually improved quality and efficiency in agricultural production.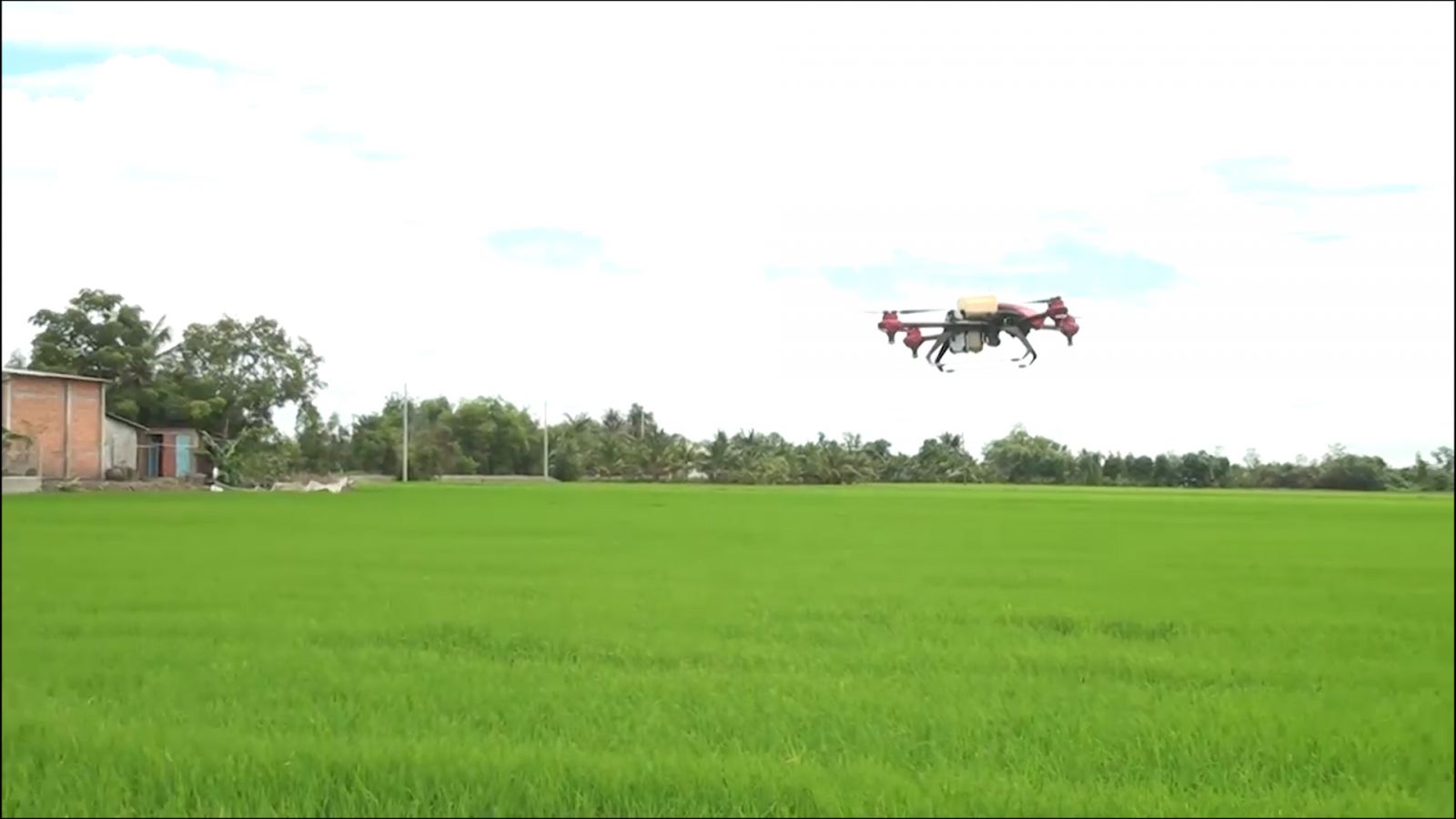 Unmanned aircraft is used to spray insecticide in the farming fields
In 2019, An Long Cooperative signed a contract to produce 68 hectares of new rice varieties applied under the safe rice process, highly supported by members. In 2020, the cooperative continues to plan to find partners and has implemented rice varieties such as Ts24, Ts25 and DS1, and so on produced according to the safe rice process with high consent from cooperative members.
During the operation, in order to attract more members, the cooperative also implemented many preferential policies such as technical support for farmers, support for seeds, materials, money withdrawn in advance, and so on to cover the costs of the services from sowing to harvesting. At the same time, the cooperative bravely applied high technology in production, using unmanned aircraft to spray insecticide in the farming field.
In 2020, the cooperative will invest in buying a unmanned aircraft for service purposes. Up to now, the cooperative has organized the service spraying insecticide to nearly 300 hectares for farmers in some communes of Duc Hoa and Duc Hue districts. Recognizing the practical effects of the application of advanced technology in the field, many households currently contact cooperatives to use unmanned aircraft services.
Mr. Le Tan Dung, living in An Hoa hamlet, shared: "I have used the unmanned aircraft service to spray insecticide and fertilizers on my family's okra fields 5 times. Generally, it is quite good to spray efficiency, spray evenly, save time, cost, labor and protect farmers' health. This is a pretty practical model that many farmers are in need".
Chairman of the Board of Directors of An Long Cooperative - Vuong Trong Nghia said that the cooperative will synchronously deploy agricultural production, sow seedlings on trays, spraying insecticide and fertilizing by unmanned aircraft. In addition, the cooperative will deploy new varieties with high productivity and quality to attract members to join the cooperative, it contributes to raising product costs for members to have a more stable income, improving the farmers' life, joining hands with the locality to build a new-style rural./.
By Mai Nha- Translated by Duc Tam
Source: http://baolongan.vn/dua-cong-nghe-vao-dong-ruong-a101944.html