Roles of cooperatives enhanced in linking and selling agricultural products
Currently, in order to contribute to the development of agricultural production, many agricultural service cooperatives (ASCs) in Long An province have actively found partners, signed contracts for the consumption of agricultural products for the members and farmers. The ASCs mostly undertake the service stages including: serving agricultural production, supplying materials, consumer goods, consuming products, agricultural promotion, etc.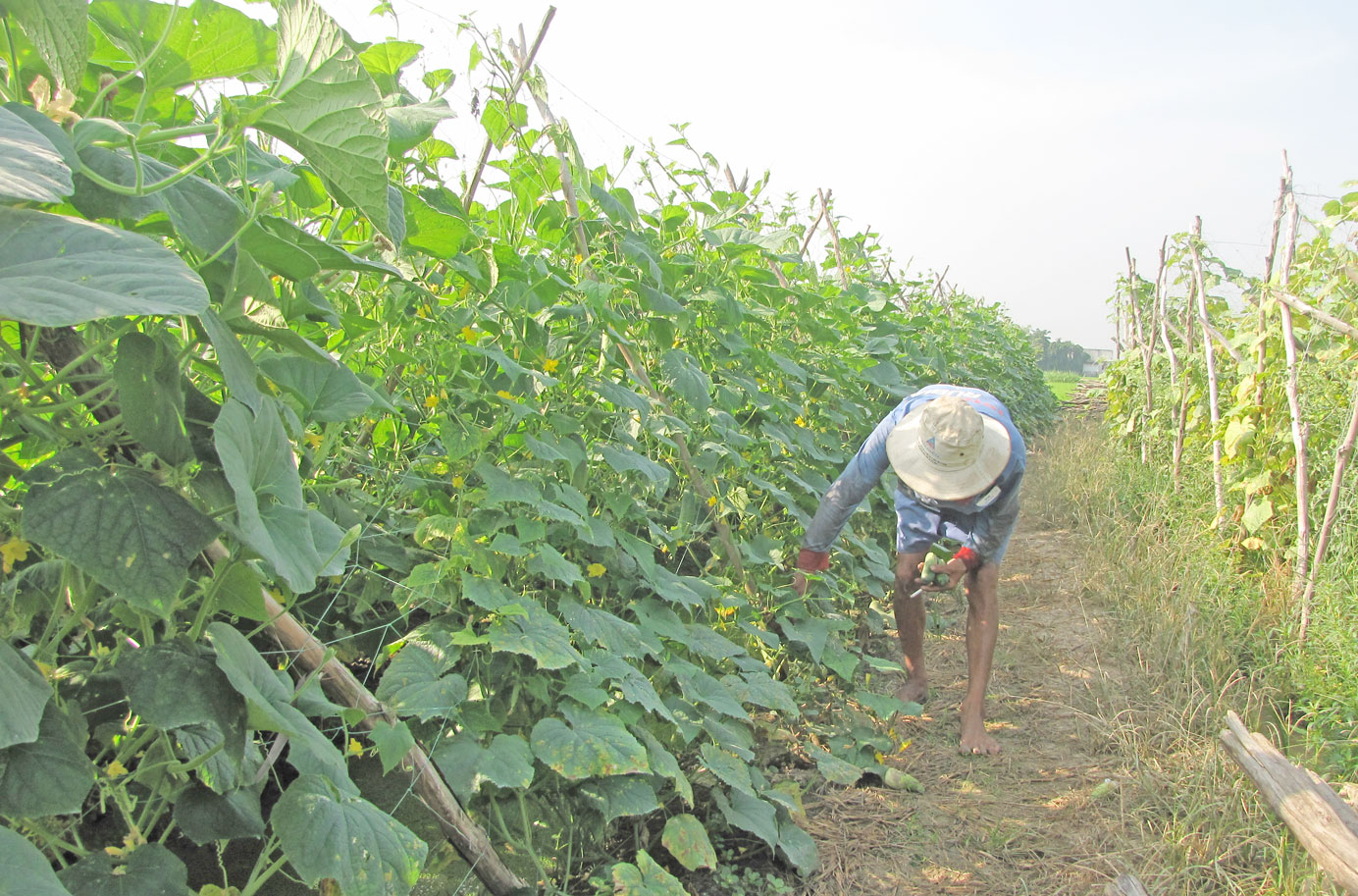 Agricultural cooperatives need to actively enhance their roles in finding markets for products
In recent years, the roles of agricultural product consumption has been concerned by some ASCs in the province. Phuoc Hoa Safe Vegetable Cooperative (Phuoc Van Commune, Can Duoc District), Phuoc Hiep Safe Vegetable Cooperative (Phuoc Hau Commune, Can Giuoc District) are two cooperatives that are quite active in finding partners, signing with supermarkets, retail stores, collective kitchens, businesses, and so on to consume products for members and farmers. The implementation of cooperatives signing contracts for agricultural consumption has helped members and farmers feel secure in production, do not worry about output for products, have stable income and reduce risks; At the same time, it helps businesses proactively source goods, control product quality to consumers.
However, according to the report of the Provincial Cooperative Union, among a total of nearly 200 cooperatives in the agricultural sector, only about 15 percent of the cooperatives provide product consumption services. Thus, more than 80 percent of the ASCs currently do not have activities related to consuming agricultural products. This is one of the reasons why the consumption of agricultural products in the province still has many shortcomings with the rate of agricultural products consumed through contracts from only 3-15 percent.
As a general recognition, the biggest difficulty in the consumption of agricultural products at present is that the ASCs have not actively found partners, they still depend and expect a lot on the State's supportive and investment mechanisms and policies. In addition, in some localities, many farmers, cooperative members, although they signed contracts to receive advance investment from enterprises and cooperatives, when the market price fluctuates, they are still ready to sell their products for traders at a slightly higher price. This makes it difficult for the cooperatives to call for and maintain contracts for agricultural product consumption with businesses. In addition, people in some localities do not agree to support the "contribution" of land for cooperatives and enterprises to rent land to invest in developing concentrated and large-scale production.
Congestion, passive, unstable output market and the chorus of "good season – price drop" requires cooperatives to renew awareness, reorganize agricultural consumption activities and strengthen the roles in consumption of agricultural products.
To support cooperatives in agricultural product consumption, over the past time, the Provincial Cooperative Union has many activities to support cooperatives to remove difficulties in terms of premises for headquarters, warehouse, increase the limit of unsecured loans, appropriate lending practices, interest rates, and loan terms contribute to promoting commodity agricultural production in the direction of increasing added value and sustainable development. In addition, the Provincial Cooperative Alliance actively builds models and organizes clean agricultural products consumption points, thereby it contributes to providing food to consumers.
Currently, the whole province has 254 cooperatives, including: 198 cooperatives in agriculture, forestry and fishery; 22 transport cooperatives; 3 Cooperative construction; 3 Trade - service cooperatives; 6 Industry - handicraft cooperatives; 3 water and environment cooperatives and 19 people's credit funds; of which 26 cooperatives stopped working (3 transport cooperatives; 22 agriculture, forestry and fishery cooperatives; 1 industry - handicraft cooperative) and specially controlled 1 people's credit fund./.
By Song Hong – Translated by Duc Tam
Source: http://baolongan.vn/nang-cao-vai-tro-cua-hop-tac-xa-trong-lien-ket-bao-tieu-nong-san-a101492.html