Agricultural sector needs more locally made machinery
The People's Committee of Can Tho City and the Vietnam Association of Mechanical Industry (VAMI) met recently to address the urgent need to produce agricultural machinery.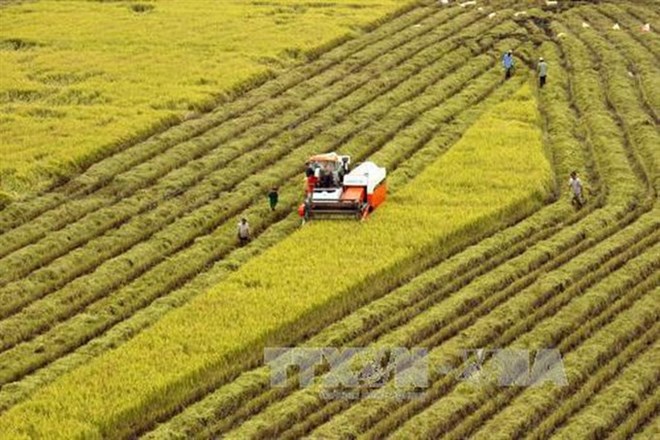 The People's Committee of Can Tho city and the Vietnam Association of Mechanical Industry met recently to discuss ways to increase the number of locally made agricultural equipment and machinery. (Photo: VNA)
Vietnam makes 30-40 percent of the agricultural machines used in the country, and the rest are imported, mostly from China and Japan.
The country has not developed agricultural machinery production largely because the support industry for the sector does not exist.
Every year, the country spends about 800 million USD to import agricultural machines, and is expected reach 1 billion USD in 2020, according to experts.
The imported machines are ploughs, pesticide sprayers and harvesting machines.
Nguyen Chi Sang, deputy chairman of VAMI, said that local firms had huge potential to make agricultural machinery.
Firms involving in the production include the Vietnam Engine and Agricultural Machinery Corp, Long An Mechanical and Truong Hai Automobile JSC (Thaco).
Local firms know farmers better than foreign firms, and are more attuned to what they need. But they still face difficulties, particularly high prices.
To compete with foreign-made machines, the Government should have more specific policies to encourage the domestic agricultural machinery industry, experts said.
More favourable conditions to access long-term loans with preferential interest rates should be created.
The most urgent measure is to rapidly modernise technology and train skilled workers.
The Government should also provide access to credit and tax breaks to those involved in production of parts for farm equipment.
The Government should also make it easier to form joint ventures with foreign firms to make and assemble highly specialised tractors, as well as machines for harvesting rice and sugarcane, experts said.
Representatives from companies said at the meeting that the Government should erect technical barriers to keep out low-quality foreign agricultural machinery and equipment.
Experts estimate that the Mekong Delta region has suffered an average loss of tens of billions of dong yearly due to the lack of rice harvest and preservation machines.
Tran Thanh Tu, an expert in agricultural machines, said: "Farmers lose thousands of dollars every year by not having machinery for harvesting rice. Manual harvesting a field that yields eight tonnes of rice results in an average loss of around 8 percent, while the rate brought by machinery usage is only 3 percent."/.
VNS/VNA