Former State President Truong Tan Sang attends to survey projects in Duc Hoa
On May 25th, Former State President Truong Tan Sang attended to survey such projects in Duc Hoa district of Long An Province as Duc Hoa III Industrial Park, Nam Thuan Industrial Park, IDICO Industrial Park. Director of Long An Economic Zone Authority - Nguyen Thanh Thanh, District Party Committee Secretary - Phan Nhan Duy, Chairman of District People's Committee - Le Truong Chinh and enterprises' representatives attended this event.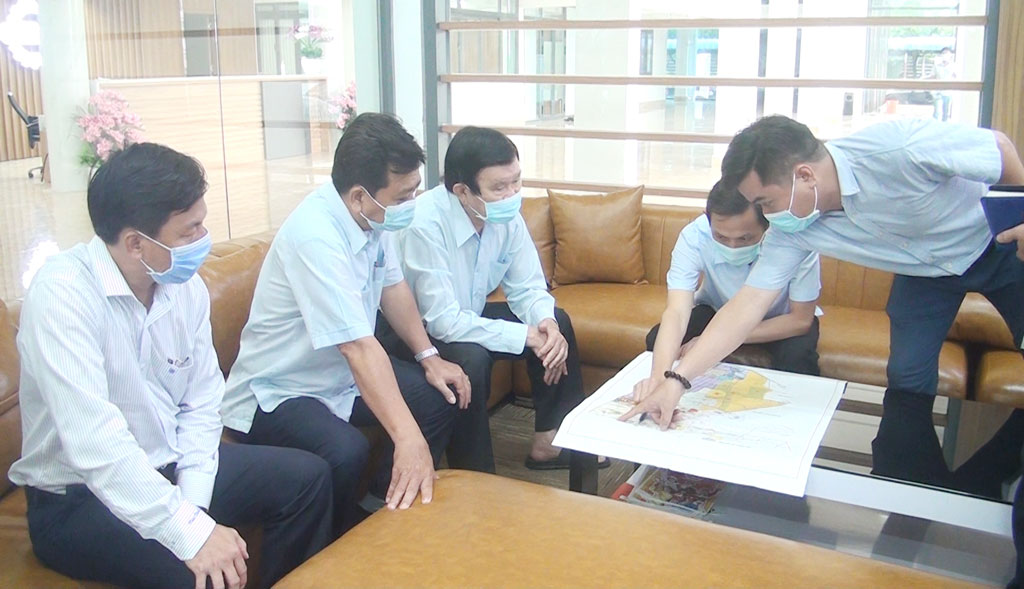 Former State President - Truong Tan Sang (3rd, L) supervises projects in industrual parks in Duc Hoa district
Accordingly, the delegation grasped the current status of constructing, flattening ground, implementing progress and attracting investment, connecting roads between industrial parks and main roads of province, district and so on in Industrial Park.
Duc Hoa III Industrial Park with 6 component industrial areas are planned for factories, treasures, wharves, administrative and service land, key construction and green trees. For the project of Slico Industrial Park - Duc Hoa III Industrial Park has implemented some items such as roads, wastewater treatment station, flattening ground, etc. It is expected that wastewater treatment area will have accomplished and attracted investors up to June.
For Huu Thanh Industrial Park (IDICO), with a scale of over 524 hectares, has been implemented since 2018. Over the past time, IDICO has focused resources to accelerate infrastructure investment. Up to now, about 150 hectares of industrial land has been flattened but not adjacent to the plot, the route of N2, D2 roads is basically completed, some remaining roads are being constructed. The centralized wastewater treatment factory is planned to be implemented and is expected to be completed in the third quarter of 2021.
IDICO is making effort to find customers, encouraging to attract investment in industrial parks. It signed the Memorandum of Understanding for land lease with 9 investors. Now, the industrial park is focusing on constructing roads, ensuring the financial resource and the construction group. However, IDICO still has obstacles with some households in site clearance.
In the survey, Former State President - Truong Tan Sang suggested the units to pay attention to the progress, reasonable infrastructure investment, especially the roads in the industrial park meeting the process of operation and adjustment. He also proposed that local leaders should continue to take notice and support in solving problems of the units, especially compensation for site clearance, create conditions for units to carry out the projects as planned./.
By Mai Nha – Translated by Duc Tam
Source: https://baolongan.vn/nguyen-chu-tich-nuoc-truong-tan-sang-du-khao-sat-cac-du-an-tai-duc-hoa-a114878.html