Long An leaders talk to residents in high-tech dragon fruit area
Vice Chairman of Long An Province People's Committee - Pham Van Canh chaired over a dialogue conference with local businesses, cooperatives, cooperative groups and farmers in high-tech dragon fruit area on December 24.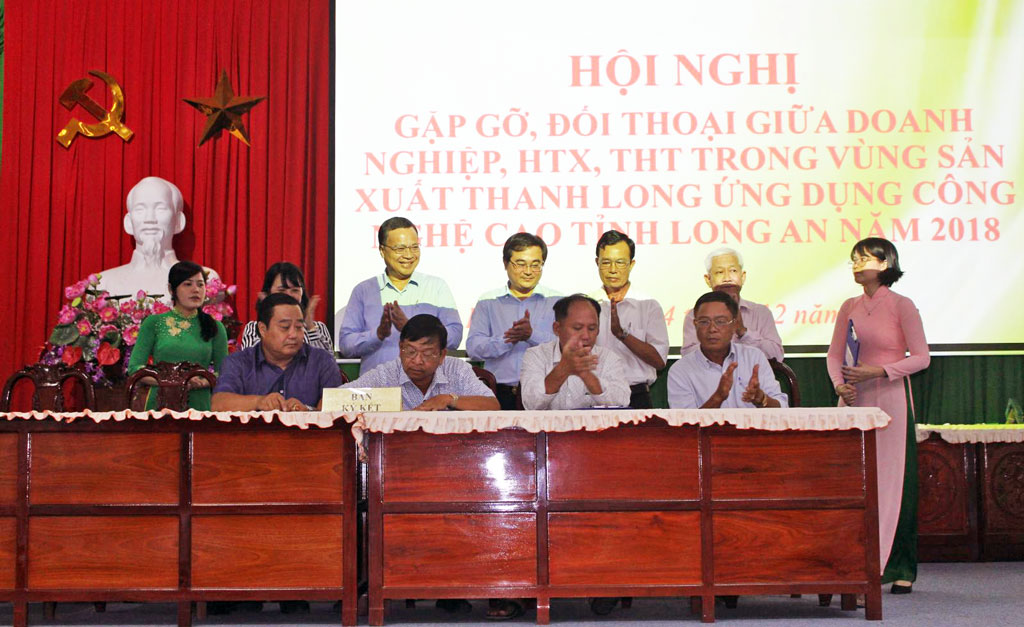 Enterprises and cooperatives signed purchasing contracts
The conference is an opportunity for businesses, cooperatives, cooperative groups and farmers to discuss advantages and difficulties in planting and consuming dragon fruits in the high-tech area as well as to introduce solutions to link up production, agricultural material supply and consumption in the future.
At present, the total area of dragon fruit in the province is about 10,595ha, mainly in Chau Thanh district. To be more particular, the plants start to fruit in more than 8,090ha. Chau Thanh has obtained nearly 40% of its target to develop 2,000ha high-tech applied dragon fruit farming area by 2020.
In general, farmers have been more aware of safe production methods, reducing labor costs, irrigation, fertilizer and so on. However, consumption has been unstable for depending on Chinese market. Limited capital has caused cooperatives yet to support their members in the whole production process.
After two years of implementation, the project has initially acquired some achievements, promising the development in following years. Through the project, farmers could also actively approach scientific and technical progress.
In addition, participating in cooperatives and cooperatives groups helps them confidently apply technical progress, VietGAP and GlobalGAP quality standards for exports. In the future, Long An will continue to attract more businesses in an attempt to stabilize consumption, said the Vice Chairman Canh./.
By Huynh Phong - Translated by Pham Ngan