Russia newspaper spotlights Vietnam's responsible contributions to UN
Vietnam's role in the international arena and its responsible contributions to the United Nations (UN) were highlighted in an article published by Russia's leading e-newspaper Infox.ru on September 24.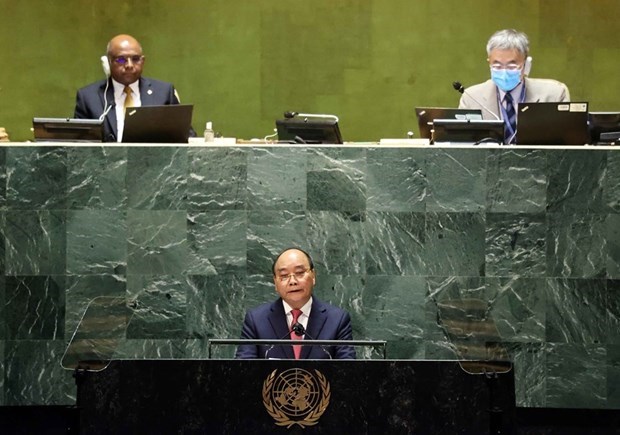 President Nguyen Xuan Phuc speaks at the high-level general debate of the 76th UN General Assembly (Photo: VNA)
The article by Grigory Trofimchuk, an expert on international affairs, highly valued the role, international position, as well as outstanding achievements of Vietnam in recent years, and spotlighted the effective and active working programme of President Nguyen Xuan Phuc at the UN General Assembly.
It mentioned President Nguyen Xuan Phuc's proposal at the high-level general debate of the 76th UN General Assembly on practical solutions such as removing barriers that hinder global vaccine supplies, comprehensively promoting trade cooperation to accelerate post-pandemic economic recovery, enhancing digital transformation, and increasing labour productivity and competitiveness and sustainability of economies.
It praised Vietnam's determination and strong commitment in responding to climate change and carbon emissions, and promoting sustainable green economic development as stated by the President at the high-level open debate of the UN Security Council on Climate Security on September 23 in New York.
According to the article, Vietnam's commitment has been clearly reflected in its responsible actions in recent years.
One of those actions is the Vietnamese Government's initiative to plant 1 billion trees between now and 2025, which can absorb about 3 percent of harmful emissions, the article said.
In his article, Trofimchuk also noted Vietnam's breakthrough proposals at the UN Food Systems Summit.
As a country with a climate favourable for year-round farming, along with its agricultural experience over thousands of years, Vietnam knows how to allocate labour in the new food era, he said.
Vietnam's agricultural industry has entered a digital era with its goal of developing qualified staff who master high technology, and this is a necessary condition for the Southeast Asian country to develop sustainably in the face of global economic and financial instability.
Regarding Vietnam's role in the international arena, the article said that Vietnam has reached a new height, which is clearly reflected in its contributions as a non-permanent member of the UNSC in the 2020-2021 term when the world is facing many difficulties, as well as to ASEAN's activities./.
VNA