Solar power system installed at Dinsen IP in Long An
Skylight, a joint venture between BCG Energy and Indefol Engineering Solutions, has put into operation a rooftop solar power system at Dinsen Industrial Park (IP) in the Mekong Delta province of Long An.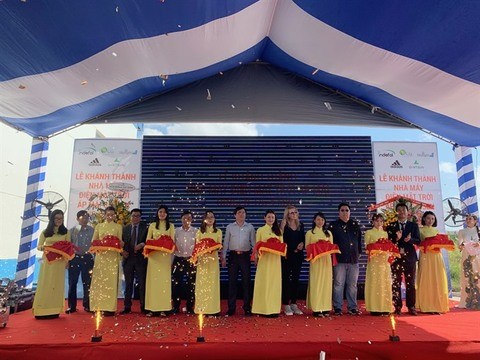 Delegates cut the ribbon to open a rooftop solar power system at the Dinsen Industrial Park in Long An Province. (Photo: BCG)
It has a total capacity of 1MW and this is Skylight's first system out of a proposed 6.4MW Skylight plans to install at Dinsen IPs in Vietnam and Cambodia this year.
It costs more than 7 million USD and includes a 100KW inverter. The power produced will be used in the IP and any surplus will be sold to the national grid.
This project is supported by German cooperation organization GIZ while HD Bank is the credit sponsor.
The system can reduce CO2 emissions by up to 25,000 tonnes during the project's life cycle.
Besides, the installation of the solar panels reduces the heat absorption by the roof.
BCG Energy is a member of the BCG Group, which has interests in agricultural manufacturing and trading, infrastructure and real estate, renewable energy, and construction.
Indefol was founded by a group of alumni from the Ho Chi Minh City Polytechnic University to research into alternatives to fossil energy./.
VNA/Recorded by LAO