Vietnam rice exports notch volatile in Q1
Vietnam's rice exports faced an unpredictable first quarter this year, increasing in January, declining in February and recovering in March, according to the Ministry of Agriculture and Rural Development.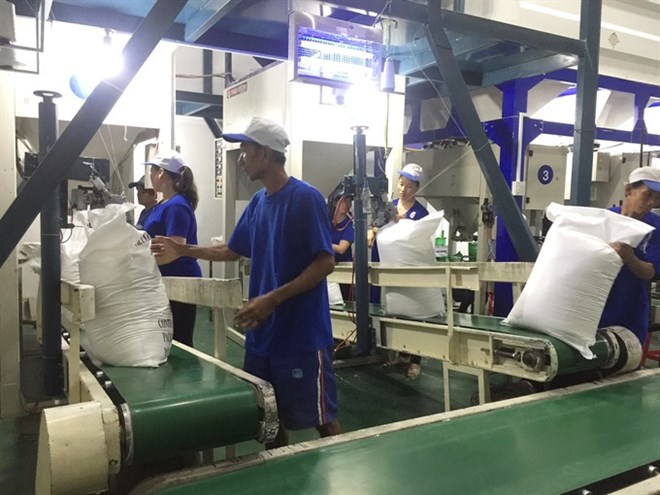 Workers at Trung An Hi-Tech Farming JSC pack rice for export (Photo: VNA)
An estimated 524,000 tonnes of rice were exported in January, with a total value of 249 million USD, reported the Ministry of Agriculture and Rural Development, representing a 49 percent rise in volume and 51.3 percent in value compared to December 2017. After declines in February, exports rose steeply in March, jumping 93.9 percent in volume and 100 percent in value to 338.44 million USD month-on-month. The rice export price also surged in March by 3.3 percent to 513.7 USD per tonne.
The country's overall rice exports in the first quarter of this year increased by 15.5 percent compared to the same period in 2017. The average rice export price in the first quarter of the current year rose by 14.2 percent year-on-year to 501 USD per tonne, reported cafef.vn.
The rice export price was higher against most export markets during the same period last year, with the highest price reaching 834.5 USD per tonne for rice exported to Chile, a year-on-year increase of 114 percent. However, rice exports to this market fell sharply by 95 percent in volume and 90 percent in year-on-year value.
China has remained the largest export market for Vietnamese rice, accounting for 27.7 percent of total volume during the first quarter of the current year.
During the first quarter of 2018, 40 percent of Vietnam's major rice export markets saw a surge in terms of both volume and value, while 60 percent saw a reduction in rice exports.
Vietnam's rice exports to Bangladesh increased 89 times in volume and 59 times in value. A similar but smaller-scale trend occurred in rice exports to Turkey, Iraq, Malaysia and France.
However, rice exports to markets such as Argentina, Chile, Ukraine, Angola, Singapore, South Africa and the Netherlands plunged between 60 to 95 percent in both volume and turnover over the same period last year.
According to experts, Vietnam will have greater opportunities when the Comprehensive and Progressive Agreement for Trans-Pacific Partnership (CPTPP) comes into effect, helping rice exporters increase exports to countries that joined the agreement and demand high quality and food safety standards, such as Japan, Australia and New Zealand.
Vietnam's structure for exporting rice products has shifted to reducing middle and lower quality rice products while increasing high quality rice products annually.
As a result, from the end of 2017 to the current period, Vietnam's rice export prices have increased to 50 USD to 100 USD per tonne against its competitors, such as Thailand, Pakistan and India./.
VNA