Attracting foreign investment, expanding export markets
Promoting competitive advantages, Long An has drastically renewed the way of thinking and doing to invite and attract enterprises to invest, especially foreign-invested enterprises in recent years. The province has made efforts to improve the investment envionment to have resulted in prosperity and create new impetus for economic growth.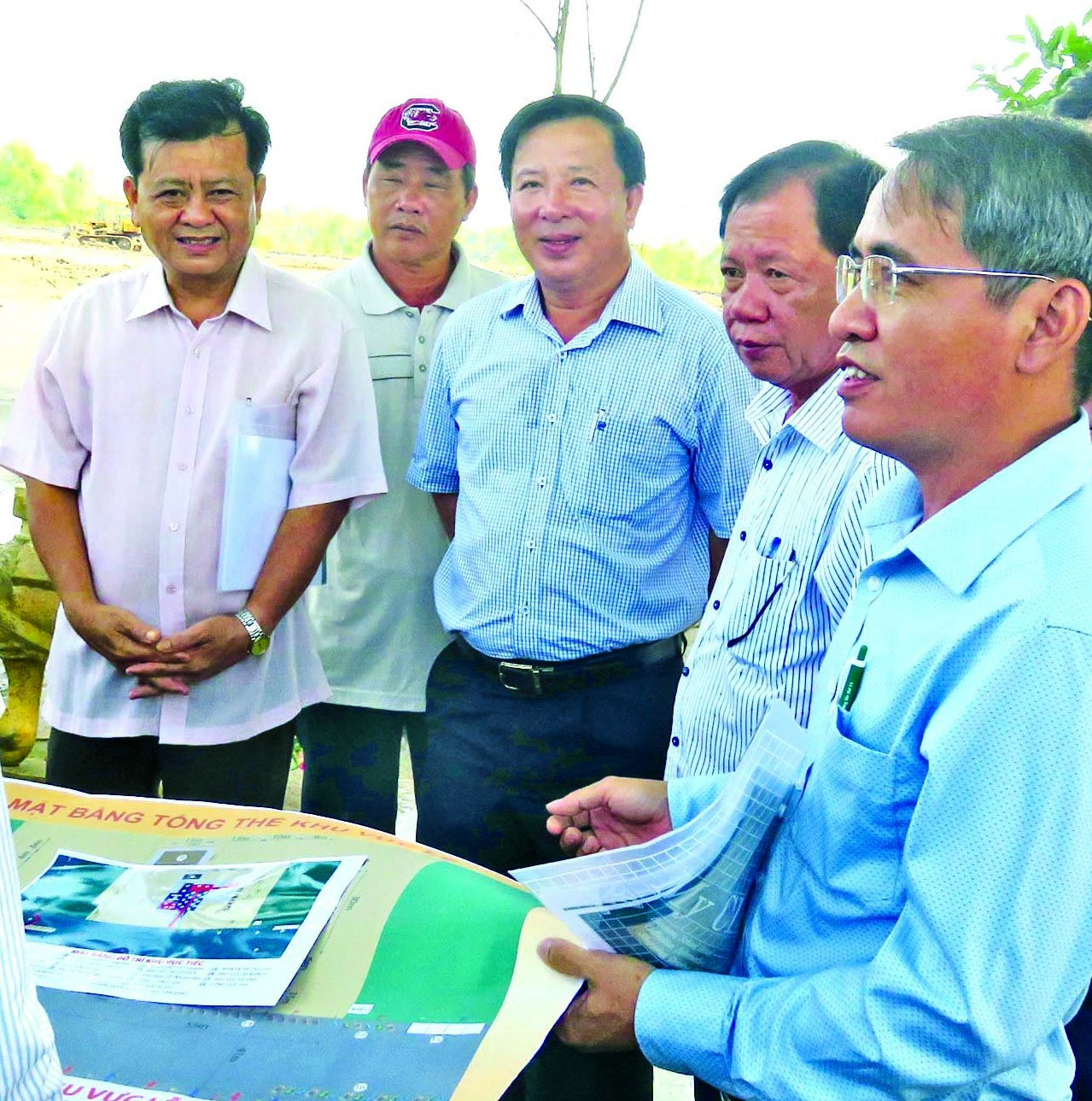 Deputy Secretary of the Provincial Party Committee, Vice Chairman of the Provincial People's Committee - Nguyen Van Ut (middle) surveys the investment progress in infrastructure of Huu Thanh Industrial Park (Photo: Mai Huong)
Located in the Southern Key Economic Region, the gateway connecting the Mekong River Delta with Ho Chi Minh City and the Southeast region, Long An has many competitive advantages, especially regional links. The province takes this advantage to have many priority policies to call for investment, focus on improving the investment environment, enhance provincial competitiveness and administrative reform, pay attention to investment in infrastructure, focus on implementing the task of site clearance, resettlement to create a clean land fund, strengthen investment promotion, trade promotion, etc. Thereby, it helps the province become a bright spot in attracting investment, especially foreign investment.
In 2019, the province attracted 109 projects with a total registered capital of 320.9 million USD, an increase of 38 projects compared to 2018. In the first 10 months of 2020, the province attracted 67 projects with a total registered capital of 264.14 million USD, with 63 projects to increase capital with a total capital increased 128.56 million USD. Up to now, the total number of registered projects in the province is 1,079 projects with registered capital of 6,608.1 million USD, of which 588 projects are put into operation with a total implemented capital of about 3,624 million USD. Foreign investment projects come from 40 countries and territories, of which Taiwan ranks first in both the number of projects and investment capital, followed by Korea, Japan, Singapore, Thailand, and the United States, etc.
Currently, the whole province has 32 industrial zones (IZs) are planned synchronously with a total area of more than 11,524 hectares and 62 industrial clusters (ICs) with a total area of 3,106.9 hectares, of which 16 industrial zones and 22 industrial zones operations with occupancy rates of 87.6 percent and 77.6 percent. Among 1,079 foreign-invested projects, there are 796 projects located in IZs with a total investment capital of 4,573.1 million USD. The sectors attracting large foreign investment capital are textiles, garment, footwear, animal feed processing industry, poultry, seafood, food processing, beverages, manufacturing industry, etc. Foreign investment projects are concentrated in key economic districts of the province, bordering Ho Chi Minh City such as Duc Hoa, Ben Luc, Can Duoc, Can Giuoc and Tan An City. Foreign investment projects with relatively large registered capital are Vina Eco Board, Sapporo, Kyodo Sojitz, Songwol Vina, Japfa Comfeed, Anova, CJ Agri, Formosa Taffeta, Puma, Greenfeed, 4 Oranges, Lavie, etc.
Foreign investment is an important additional source of additional capital in the total social investment capital, it significantly contributes to promoting economic restructuring, increasing production capacity, innovating technology, contributing to the state budget, developing high-quality human resources and creating more jobs, etc. Besides, foreign investment also facilitates the province to expand international markets, increase export turnover, step by step participate to global production networks and value chains.
The province currently has over 700 enterprises participating in import and export, has exported to more than 120 countries, regions and territories around the world. The province's commodity products such as rice, cashew nuts, aquatic products, dragon fruits, seedless lemons, leather shoes, textile products, mechanical products, electrical products - electronics, batteries- regulations, agricultural machinery, equipment, plastic products, and so on have been exported to markets with high quality requirements such as EU, USA, Japan, Korea, etc.
In 2019, the province's export reached 5.97 billion USD, increased 14.3 percent compared to 2018. In absolute value, the province's export in 2019 increased by 0.75 billion USD compared to 2018. Nine months of 2020, the province's export turnover will reach 4.47 billion USD, up 1.8 percent over the same period (up 14.9 percent); import turnover reached 2.91 billion USD, down 10 percent over the same period (up 6.3 percent). The products leading in export turnover of the province include: Mechanics, batteries, electronics, iron and steel and products from iron and steel; etc. Only nine months of 2020, some markets such as China, Hong Kong, Australia, Taiwan, and the US still increased, up 10 percent over the same period due to the impact of the Covid epidemic -19 worldwide.
On August 1, 2020, the Vietnam - EU Free Trade Agreement (EVFTA) took effect, this is a golden opportunity for exports. To take advantage of incentives from EVFTA, the province continued to propagate and disseminate EVFTA Agreement in general, including in-depth training conferences on certification of origin of goods, European market standards, and so on so that authorities, especially businesses, take advantage brought by the EVFTA agreement to change production thinking, and prepare suitable conditions to penetrate the European market. At the same time, the province supports businesses to advertise their products to European countries through local and national trade promotion programs; coordinate with Vietnam Trade Counselors in countries to support businesses to connect and verify European partners when needed, and market information and regulations of the host country to businesses to grasp the use. To help businesses make the most of the opportunities brought by the EVFTA Agreement, the province will further promote administrative reform, transparency and fairness among businesses to remove barriers for production and business activities of enterprises; continue to grasp the proposals and problems of the enterprise to promptly resolve, or propose, propose to the superior to consider and resolve, especially the provisions of the appropriate legal documents. The standards of the EU market are very high, so when the province's exported products enter the EU, their position will be enhanced more in the international market.
With the goal of maintaining its position as the leading province in the Mekong River Delta, in the term 2020-2025, Long An province will make efforts to attract investment, especially foreign investment, and expand export markets. This is a very important area, the Provincial People's Committee will focus on implementing socio-economic development and achieving the economic growth and income targets of the Resolution of the XIth Provincial Party Congress./.
Deputy Secretary of the Provincial Party Committee, Vice Chairman of the Provincial People's Committee - Nguyen Van Ut
Souce: https://baolongan.vn/thu-hut-dau-tu-nuoc-ngoai-mo-rong-thi-truong-xuat-khau-a106062.html