Eastern coastal Mekong Delta provinces link up for sustainable growth
Leaders of four Mekong Delta provinces, namely Tien Giang, Ben Tre, Tra Vinh and Vinh Long, jointly held a conference in Ben Tre on January 10 to announce a vision for sustainable development of the eastern coastal sub-region of the Mekong Delta.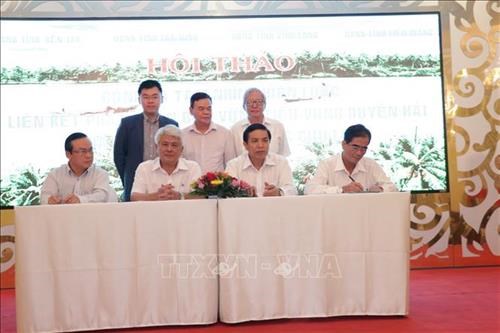 Representatives of Tien Giang, Ben Tre, Tra Vinh and Vinh Long sign the strategy vision (Photo: VNA)
Opening the event, Chairman of the People's Committee of Ben Tre Cao Van Trong said that through the conference, the localities will inform officials, investors, businesses and locals of connection activities among the four provinces, as well as a roadmap for cooperation.
The event aimed to raise awareness of businesses and locals of each province of the significance of connectivity.
Dr. Nguyen Duc Loc from the Southern Institute of Policy and Strategy Agricultural and Rural Development said localities in the eastern coastal sub-region should focus on developing the production of fruit, coconut and seafood and foster links with businesses.
Under the agreement signed by the localities, the strategic vision of connectivity focuses on socio-economic development and environmental protection.
Specifically, the provinces will foster connections in eight areas, including developing value chains for major agricultural products and connecting infrastructure systems as well as production regions for products of each province.
They will connect with each other in protecting, managing and exploiting resources, including sand and water, while linking up in calling for investment in agriculture and industry, with greater attention on agricultural product processing, as well as trade and tourism.
The localities will work together to build regulations in coordination and information sharing as well as making joint programmes and projects related to climate change response and prevention of river bank and coastal erosion.
The localities aim to become a region with high development level compared to the Mekong Delta region and the whole country by 2030, with per capita income equivalent to the country's average level, stable livelihoods for locals and a poverty ratio below the country's average.
Along with increasing models of hi-tech agriculture production, they will develop comprehensive irrigation infrastructure to adapt to climate change and develop the maritime-based economy.
The eastern coastal sub-region of the Mekong Delta region has a total area of more than 8,788 square kilometres, 21.5 percent of the total area of the Mekong Delta.
In 2019, Tra Vinh will head the management committee for the sub-region's connection activities./.
VNA/Recorded by LAO