Hi-tech dragon fruits planting brings efficiency
On September 23, the Agricultural Service Center of Long An province and the Department of Agriculture and Rural Development of Chau Thanh district organized a review of high-tech dragon fruit planting models in Duong Xuan cooperative as well as introduced unmanned spraying equipment to manage pests on dragon fruits.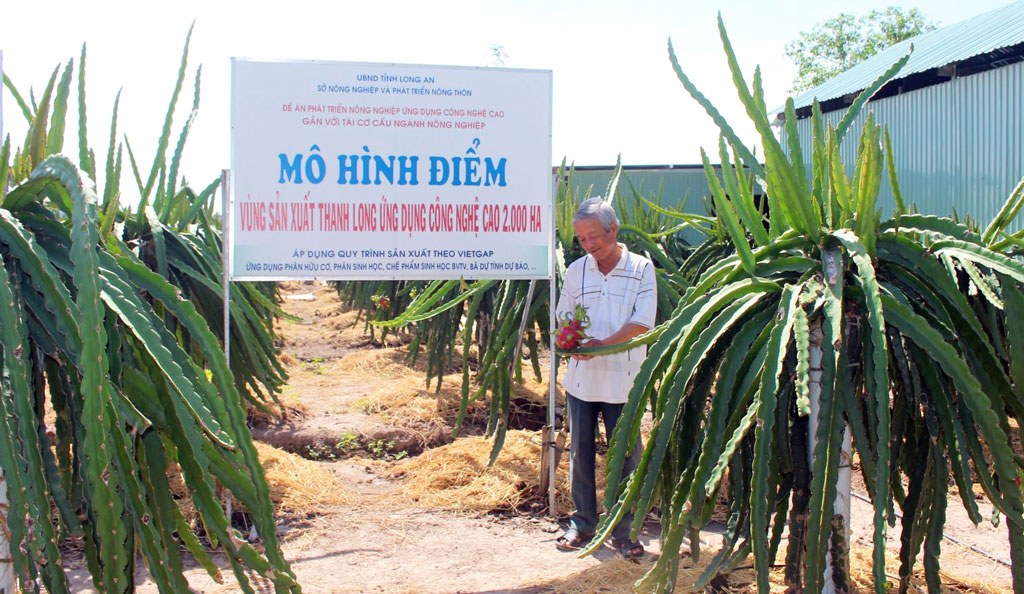 Hi-tech dragon fruits planting brings efficiency
High-tech dragon fruit planting models in Duong Xuan cooperative consist of the planting dragon fruits according to VietGAP standards (2.5 hectares per 27 households); the application of mechanization in treating dragon fruit branches after pruning; the application of red compact light for dragon fruit to bloom in off-season; and the application of advanced irrigation systems on dragon fruit.
The model has distributed trash containers and collected bottles, packaging of plant protection drugs as well as supported certification of planting dragon fruit that meets VietGAP standards.
When participating in the model, farmers were guided the process of planting dragon fruits according to VietGAP standards, fertilizing, preventing pests and diseases, recording cultivation diary, and so on. The average profit is more than 3.2 million VND per hectare compared to outside the model.
According to Director of Duong Xuan Cooperative - Nguyen Huu Gia, over the past time, the cooperative has developed 7 cooperative groups planting high-tech dragon fruits with an area of 128.55 hectares; granted VietGAP certificate with an area of 21.4 hectares for 30 households. The cooperative has cooperated with Nafoods Southern Joint Stock Company to establish a chain-linked model with 14.5 hectares. Since the beginning of the year, the cooperative has provided over 800 tons of dragon fruits to Nafoods Joint Stock Company. Besides, the cooperative signed with Que Lam Company to build an organic dragon fruit growing model.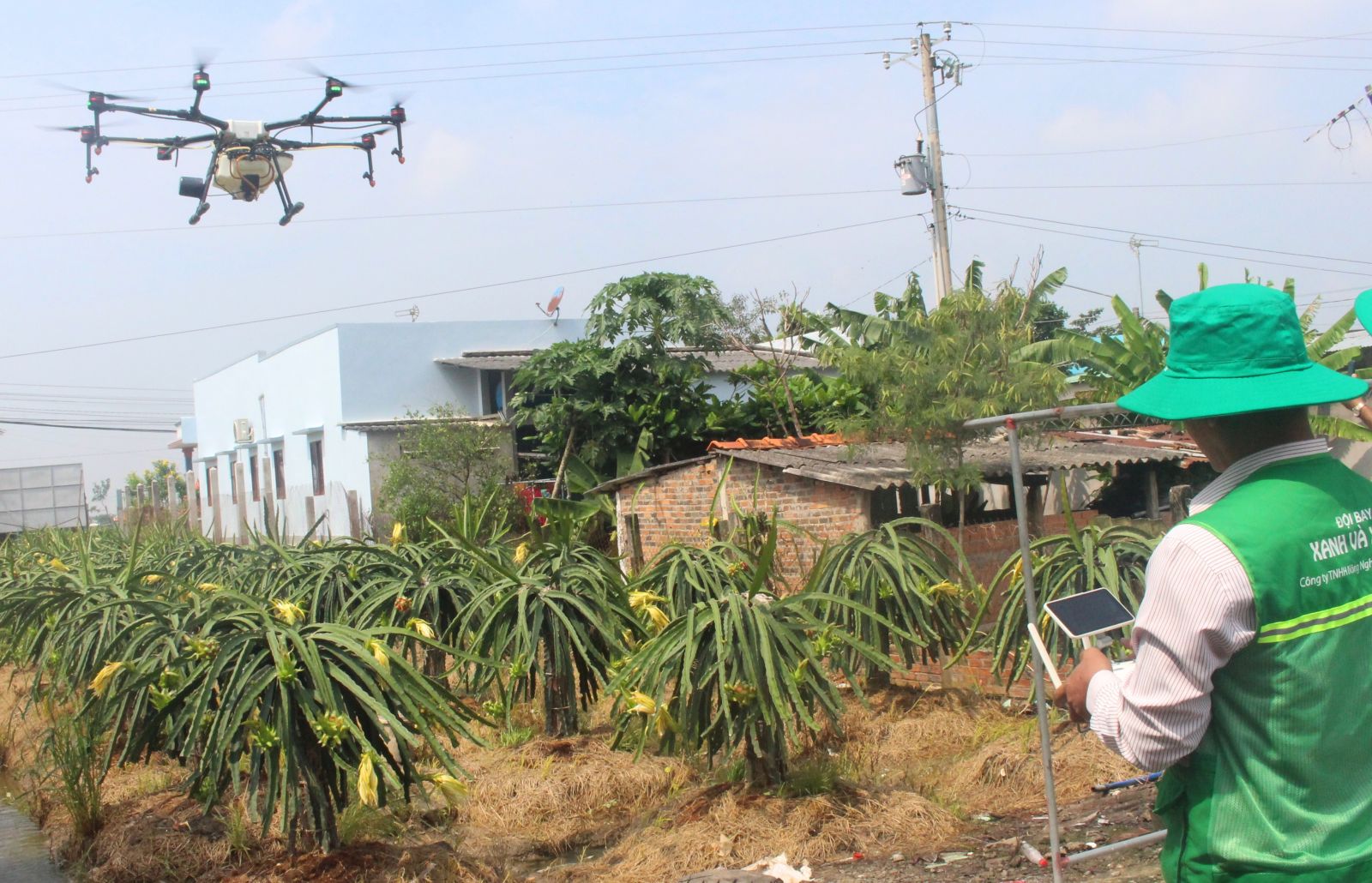 Unmanned spraying equipment
Director of Long An Agricultural Service Center - Trinh Hoang Viet said: "The application of technical advances contributes to improving production efficiency. Planting clean dragon fruits according to VietGAP standards is proper and necessary policy. However, the market output is not stable; changing the awareness and production practices of farmers are still difficult."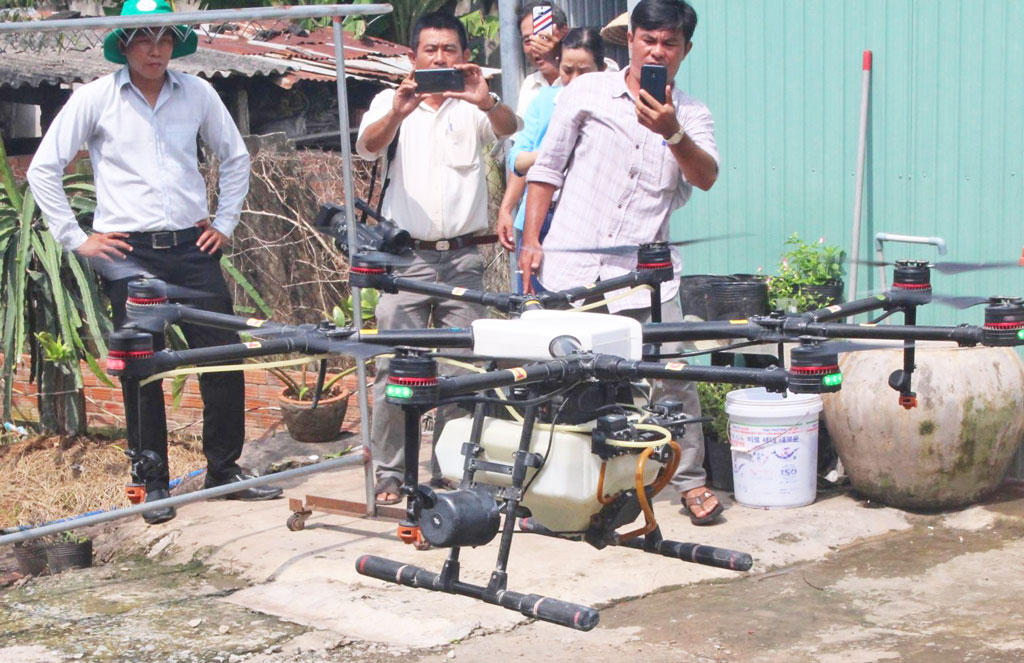 Unmanned spraying equipment has many benefits for farmers
At the seminar, many farmers and local leaders suggested that the provincial functional departments should enhance trade promotion, introduce cooperatives with businesses to sign a cooperation agreement to consume VietGAP dragon fruits; support the allocation of planting area codes for cooperatives in Chau Thanh district to meet the requirements of traceability in export; regularly support new technology transfer to minimize investment costs and increase profits.
On this occasion, Green and Green (Xanh and Xanh) Agriculture Company performed unmanned spraying equipment. The efficiency of the equipment is equal to 40 times of human power. It can spray 1 hectare in 10 minutes and 50 hectares per day./.
By Huynh Phong - Translated by Pham Ngan
Source: http://baolongan.vn/chau-thanh-nong-dan-san-xuat-thanh-long-ung-dung-cong-nghe-cao-dat-hieu-qua-a82584.html