Indonesia kicks off 2023 ASEAN Chairmanship
President Joko Widodo officially kicked off Indonesia's 2023 ASEAN Chairmanship at a launching event in Jakarta on January 29.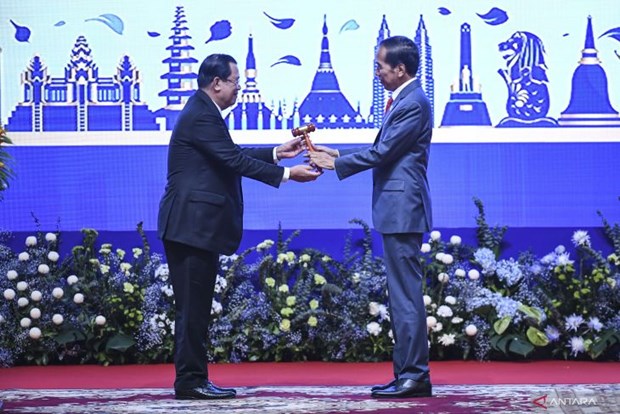 Indonesian President Joko Widodo (right) receiving the ASEAN chairmanship relay from Cambodian Prime Minister Hun Sen (left) in Phnom Penh, Cambodia on November 13, 2022. (Photo: VNA)
Speaking at the event, the president emphasised that the Association of Southeast Asian Nations (ASEAN) remains essential and relevant for the people, the region and the world despite current global uncertainties and challenges.
He also said that ASEAN will continue contributing to the Indo-Pacific region and maintaining regional peace and economic growth.
The leader highlighted ASEAN will continue contributing to peace and stability in the Indo-Pacific region and help maintain economic growth because ASEAN matters and is the epicentre of growth.
Earlier during the ASEAN chairmanship relay ceremony on November 13, 2022 in Phnom Penh, the president affirmed that ASEAN will become a stable and peaceful region -- an anchor for global stability.
ASEAN will also uphold international law, humanitarian values, and democratic practices, and will not act as a proxy for any party./.
VNA