Localities work to foster sustainable development of rural tourism
In recent years, many provinces and cities throughout the country have bolstered the development of rural tourism in a bid to promote their natural landscapes, people, traditional crafts and products to visitors. Rural tourism is considered as the key to facilitating economic development and fostering the building of new-style rural areas.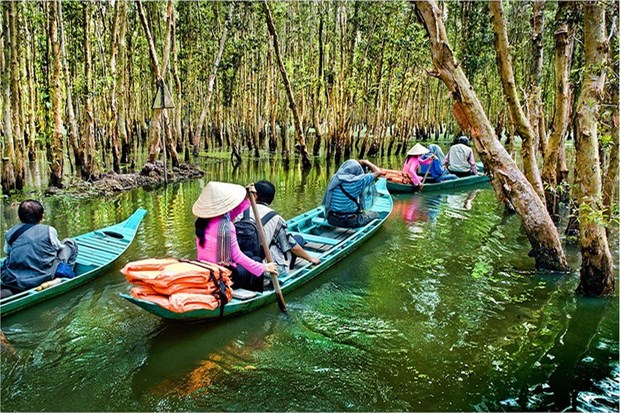 Visitors take a boat tour at Gao Giong eco-tourism site in Cao Lanh district, Dong Thap province. (Photo: dulich.dongthap.gov.vn)
Locals and authorities join hands to develop tourism
In 2016, agricultural tourism in Dong Thap began to thrive, making the Mekong Delta province an ideal destination for domestic and foreign tourists.
Currently, Sa Dec city, and Thap Muoi and Cao Lanh districts in Dong Thap province have taken advantage of their natural conditions, such as rivers, rice fields, lotus fields, and mango gardens, to build new tourism products.
Tu Mach's mango garden in Cao Lanh district welcomes hundreds of visitors every day, generating significant income for his family.
Director of the Dong Thap provincial Department of Culture, Sports and Tourism Huynh Thi Hoai Thu said that agritourism helps farmers earn an income 1.5 times higher than farming alone. This is also the optimal solution to utilise local labourers, improve income, increase the value of agricultural products, and raise locals' awareness of environmental protection and preservation of traditional culture.
To date, a total of 63 agricultural and community-based tourism sites have been established in Dong Thap, including 8 homestays, 2 farmstays, and 53 tourist attractions. The locality plans to launch an additional 40 sites in the coming time.
In the 2016-2021 period, community-based tourist sites in Dong Thap served more than 4 million visitors, with a total revenue of more than 486 billion VND.
In central Thanh Hoa province, the tourism sector has also been active in integrating natural landscapes, OCOP products, and indigenous culture in tourism development.
According to Deputy Director of the provincial Department of Culture, Sports and Tourism Vuong Thi Hai Yen, the province is working on a project on developing agricultural tourism.
In 2022, tourist sites and attractions in Thanh Hoa province welcomed over 11 million visitors and earned more than 20 trillion VND in revenue, 3.2 times and 4 times higher than the figures of 2021, respectively.
The province has launched new agricultural tourism products such as tours to grow clean vegetables in Yen Le commune, Nhu Xuan district, in addition to tours to Yen Trung tourism village in Yen Dinh district, and tours to Linh Ky Moc ecological farm in Thanh Hoa city.
More momentum for agricultural and rural tourism
Agricultural tourism can ensure a profit that is 1.5 times higher than common farming methods. Therefore, many localities have actively developed rural tourism product services.
Figures from the Ministry of Agriculture and Rural Development showed that as many as 65 OCOP products in the group of community-based tourism services have been certified within the one-commune-one-product (OCOP) programme. Which, many regions, including the northern mountainous region and the Mekong River Delta, have brought into play their advantages of natural conditions, agricultural production, culture, and traditional craft villages, to build rural tourist attractions.
Rural tourism not only helps to promote the potential and advantages of agriculture, craft villages, culture and ecological environment of localities but also contributes to improving the living quality of the local people while restructuring the rural economy towards industrialisation and modernisation.
Under the programme on developing rural tourism and building new-style rural areas in the 2021-2025 period, the Ministry of Agriculture and Rural Development has asked localities to identify the development of rural tourism as one key task.
The programme sets targets that by 2025, about 50% of the rural tourism establishments in Vietnam will be certified to meet tourist service standards.
Also, at least 50% of the rural tourist spots are recognised to be digitised and connected with digital technology.
To realise the programme, the ministry requested localities to accelerate communication events, raise awareness of tourism businesses and individuals about sustainable rural tourism development, and launch new tours and rural tourist sites which can promote local cultural values while protecting the environment.
It is hoped that with full participation from the socio-political organisations, local authorities and people, rural tourism will further develop, making an important contribution to the socio-economic development of rural areas./.
VNA