Vietnam develops rural tourism through digital transformation
Vietnam is taking measures to develop rural tourism through digital transformation, as the effective development of rural tourism will contribute to turning tourism into a spearhead economic sector and promoting sustainable new-style rural area building.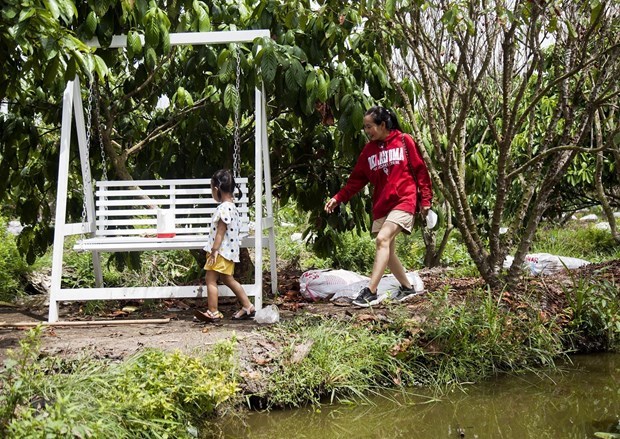 Tourists in an eco-tourism site (Photo: VNA)
The Ministry of Agriculture and Rural Development and the Ministry of Culture, Sports and Tourism held an online forum to promote rural tourism products through digital transformation on October 2.
The development of rural tourism in the National Target Programme on New-style Rural Development in the 2021-2025 period is identified as one of the driving forces to create jobs, raise people's incomes, and promote rural economic structure shift; and helps preserve traditional cultural values and protect the environment, heard the forum.
According to Le Ba Ngoc, Vice Chairman of the Vietnam Handicraft Exporters' Association (Vietcraft), rural and ecological tourism accounts for about 10 percent of tourism in general, and generates about 30 billion USD in revenue per year globally. In addition, the annual growth rate of rural tourism is from 10-30 percent, while that of traditional tourism is only 4 percent.
Vietnam currently has three types of rural tourism, which are community-based tourism, agricultural tourism and ecotourism. The country has about 365 rural tourist spots and more than 2,000 traditional craft villages with potential for tourism. Digital transformation in rural tourism will help attract more visitors, assist tourists to prepare their trips more easily, provide better services and understand customer behaviours.
To develop rural tourism, Ngoc proposed allowing cooperation with international organisations to promote Vietnam's rural tourism products, allowing Vietcraft to coordinate with the Ministry of Agriculture and Rural Development and provinces to popularise rural tourism products through digital transformation, and building a national database of tangible cultural values and fees for tourism development of 54 ethnic groups in Vietnam to achieve the goal of 50 percent of traditional craft villages participating in the rural tourism value chain by 2025./.
VNA