Mekong Delta - An ideal destination for foreign visitors
Boasting a network of canals, immense rice fields and fruit orchards, the Mekong Delta has become a favourite destination for foreign visitors who wish to explore the life on the water and the original culture of the southwestern region.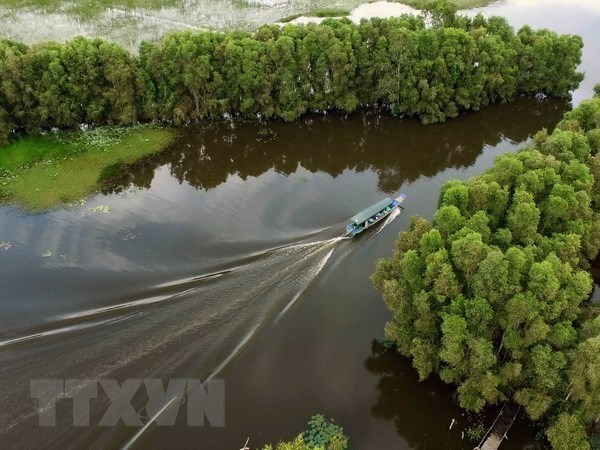 A boat carries tourists on a sightseeing tour of the Tram Chim National Park in the Mekong Delta province of Dong Thap. (Photo: VNA)
Located on the lower part of the Mekong River with rich alluvial soil, interlacing canal networks, and temperate climate, the region has the best conditions for growing fruit trees. It is the country's largest fruit growing area with fruits such as rambutan, mango, durian, longan, guava, orange, and plum.
Many orchards in the Mekong Delta are known nationwide, including Cai Be, Vinh Kim and Cho Gao in Tien Giang province; Cai Mon in Ben Tre; Cu Lao An Binh in Vinh Long; and My Khanh in Can Tho city. These orchards have not only brought in agricultural income, but have become attractive destinations for visitors to the Mekong Delta.
Apart from beautiful orchards, the region lures visitors to an original water lifestyle where people live and trade on boats, forming large floating markets like Cai Be in Tien Giang, Cai Rang in Can Tho, Nga Nam in Soc Trang, and Phung Hiep in Hau Giang.
Above all, the Mekong people's fervor, hospitality, and generosity make the region a truly worthwhile place to visit.
The provinces in the delta have taken all these advantages to develop original tours to Tien Giang, Ben Tre, Can Tho and Long An where visitors can see beautiful fruit-laden orchards and explore the life of southwestern farmers.
From Ho Chi Minh City, visitors can go to My Tho by bus and from there they can take a boat tour to explore Thoi Son, one of the four popular islands in Tien Giang province.
From a beautifully decorated boat traveling the Tien River, people can see Thoi Son Island appearing behind the greenery of immense orchards.
On this tour, tourists can visit orchards to enjoy rambutans, bananas and sapodillas fresh from the gardens and drink honey tea. They can also go to craft villages in the area and learned the process of making coconut candy, girdle cakes and chocolate - the region's known specialties.
The tour also offers a chance for travellers to join such activities such as rowing a three-plank boat, bailing out water to catch fish in a pond, walking on a monkey bridge, which is a very popular type of bridge in the Mekong Delta. It is a simple, handmade bamboo or wooden bridge over a stream or channel.
Besides, tourists can also enjoy performances of "don ca tai tu", a genre of traditional music in southern Vietnam./.
VNA