National forum seeks to promote girls' rights, end child marriage
Girls' safety in public areas and child marriage problems were the main topics at a dialogue on October 7 between girl representatives and leaders of a number of National Assembly (NA) committees, ministries, sectors and central organisations.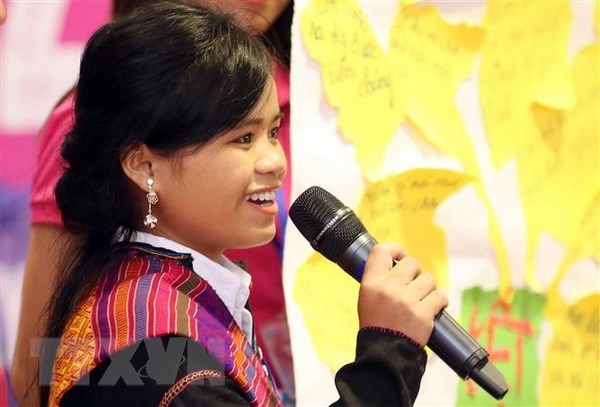 A girl raises her voice at the dialogue in Hanoi on October 7 (Photo: VNA)
The dialogue was part of the national forum of girls 2018 which is being held in Hanoi by the NA Committee for Culture, Education, Youth, Adolescents and Children, the Ministry of Labour, Invalids and Social Affairs, the Central Council of the Ho Chi Minh Young Pioneer Organisation, and Plan International Vietnam.
Through presentations and plays, participants delivered a message to call for efforts to protect girls in public places and end child marriage.
They gave proposals on how to ensure safety for girls, including the building of entertainment spaces and works designed exclusively for girls, the installation of security camera and lighting systems in entertainment areas, as well as the printing of addresses and phone numbers of support channels on the cover of notebooks, and the organisations of more forums for children to raise their voice.
During the dialogue, officials from NA committees, ministries, sectors and organisations listened and answered to questions raised by the girls regarding the building of safe entertainment areas for children, especially girls, measures to protect children from sexual abuse, along with issues related to nutrition and legal status for children of child marriage, and life skill training for children.
Chairman of the Central Council of Ho Chi Minh Young Pioneer Organisation Nguyen Ngoc Luong said that the council has set a goal to build an entertainment area for children in each commune, ward and town.
Head of the Vietnam Women Union's Department for Family and Society Nguyen Thi Tuyet Mai pointed to high numbers of child marriage in mountainous areas across the country.
She said that the union has coordinated with relevant parties to implement communication programmes and models to raise public awareness, especially among ethnic minority groups, of problems from school dropout and child marriage.
Participants held that it is necessary to improve knowledge and self-protection skills of children, while parents must pay more attention to their kids.
Chairman of the NA Committee for Culture, Education, Youth, Adolescents and Children Phan Thanh Binh asserted that the most important thing is getting children to understand how to react in particular situations, who to contact when they need support, and what are their legal rights.
Binh held that along with backward customs, children's poor awareness is also a reason behind child marriage; therefore, he stressed the need to help children improve their knowledge on the health consequences of early marriage and child bearing for both young mothers and their children.
At the forum, officials from NA committees, ministries, sectors and organisations and girls signed a commitment to act for the rights of girls./.
VNA