Painting contest marks Vietnam-Cuba diplomatic ties
The Ho Chi Minh City Union of Friendship Organisations on September 27 launched a painting contest for children to mark the 60th anniversary of Vietnam-Cuba diplomatic ties.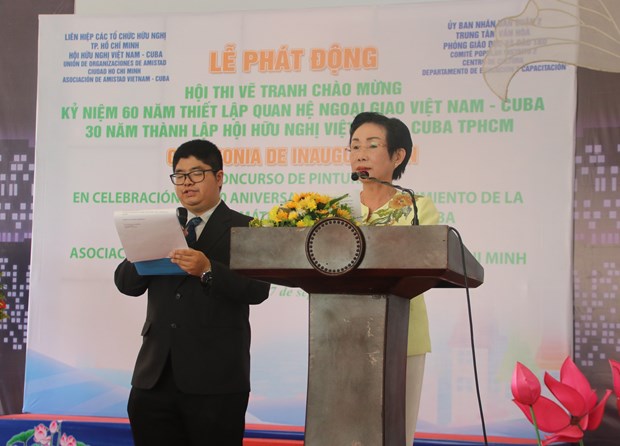 At the launching ceremony (Photo: VNA)
The contest aims to help local children understand more about the traditional, special friendship between the two countries, as well as the land and people of Cuba, said Truong Thi Hien, Chairwoman of the Vietnam-Cuba Friendship Association in HCM City.
Children aged from 7-14 who are studying at primary and secondary schools, and art training centres across the city are eligible to participate in the event, she said. Each of the educational institutions can send at least 10 entries to the competition.
There will be a first prize worth 1 million VND (42.08 USD), two second prizes (each worth 00,000 VND), three third prizes (500,000 VND), and 10 consolidation prizes (300,000 VND), for individuals.
In the collective category, there will be a first prize valued at 1.5 million VND, one second prize (1 million VND) and one third prize (500,000 VND).
Outstanding works will be exhibited nationwide.
The entries should be submitted to the organisers before October 15. The award ceremony is expected to be held on October 31 in the city./.
VNA