Second Ngoc Linh ginseng festival opens in Quang Nam
The second Ngoc Linh ginseng festival began in the mountainous district of Nam Tra My, the central province of Quang Nam on August 1.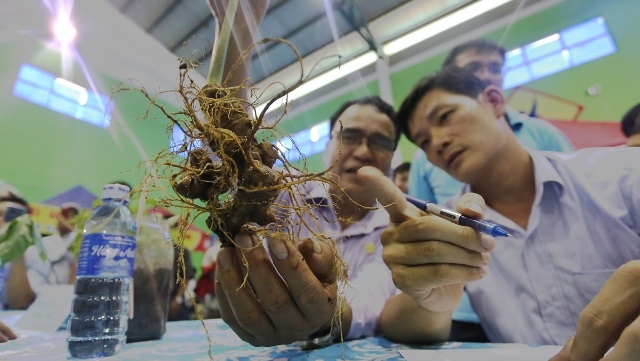 The second Ngoc Linh ginseng festival opens in Nam Tra My district, the central province of Quang Nam on August 1. (Photo: VnExpress)
The festival featured a procession of Ngoc Linh ginseng symbol, a fair showcasing ginseng and signature farm produce from local mountainous districts, a photo exhibition on Ngoc Linh ginseng and music performances.
Ngoc Linh ginseng is a rare medicine containing 52 sanopin compounds helpful to health. As many as 779 households in Tra Linh, Tra Nam and Tra Cang communes are growing the ginseng in forests on an area of over 932ha.
In June 2017, Ngoc Linh ginseng was named in the list of national products by the Prime Minister. It has not only improved lives of local famers in Nam Tra My but also protected local primeval forests.
Many people have become billionaires thanks to high economic value of the variety. The province has zoned off over 15,000 ha for Ngoc Linh ginseng cultivation and many enterprises have applied for.
The district has partnered with the Ministry of Agriculture and Rural Development and the Ministry of Science and Technology (MoST) to conduct scientific studies on preserving and developing original genes of Ngoc Linh ginseng.
It also worked with Ham Yang district, Gyeongsangnam province – the capital of Korean ginsengs - to learn from its experience in marketing Ngoc Linh ginseng trademark.
On the occasion, the MoST's National Office Intellectual Property announced geographical indication of Ngoc Linh ginseng for 7 communes of the district.
The festival will last till August 3./.
NDO