Tet tree-planting festival launched nationwide
The 2019 Lunar New Year (Tet) tree-planting festival, themed "Forever grateful to Uncle Ho", has been launched in localities across the country with an array of diverse and practical activities.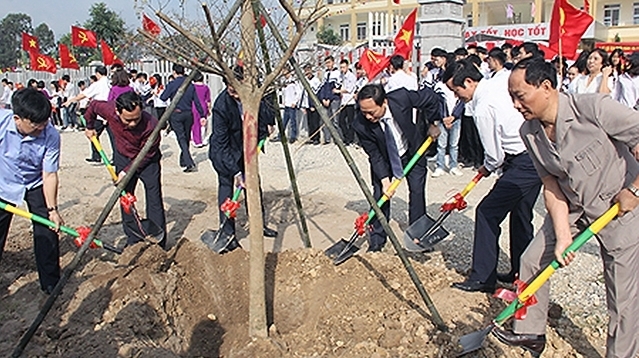 The Tet tree-planting festival at Hung Vuong High School in Van Lam district, Hung Yen province. (Photo: baohungyen.vn)
* The Hung Yen provincial People's Committee recently launched the festival, targeting to plant 180,000 trees, including 136,000 fruit trees and another 44,000 trees for wood and umbrage in 2019.
* In response to the tree-planting festival, locals in Hat Lot townlet, Mai Son district, Son La province, were engaged in cleaning up the environment and planting more than 200 green trees along the two sides of the 300m road to the resettlement hamlet on February 9. This is the fourth road to be built into a green-clean-beautiful road in the locality.
* On Saturday, the authorities of Hanoi's Thanh Tri district launched the Tet tree-planting festival, calling for an active response from agencies, units, schools and all strata of people. In 2018, Thanh Tri district planted a total of 18,500 green trees and built five kilometres of flower roads.
* The Soc Son district People's Committee (Hanoi) said that the locality will continue to look after and protect the existing forest area in 2019, while upgrading 67 hectares of forest and planting an additional 8,000 green trees for umbrage.
* On the morning of February 9, Nghe An province's Military High Command launched the 2019 Tet tree-planting festival. Accordingly, soldiers of the provincial armed forces are planning to plant 24,000 new trees for wood and over 5,000 fruit trees of different types this year./.
NDO/Recorded by LAO