Toll reduction to start at Soc Trang BOT toll booth from January 12
The Ministry of Transport has approved the policy of road toll reduction at Soc Trang BOT toll station in the Mekong Delta province of Soc Trang from January 12.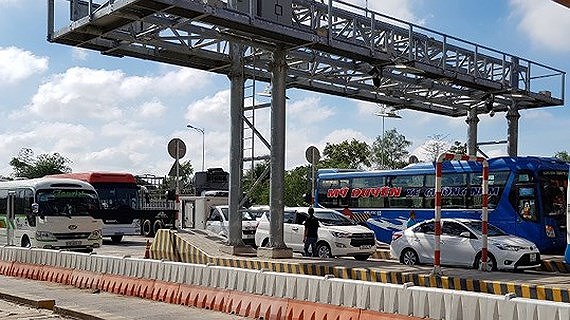 Vehicles travel through Soc Trang BOT toll station
Deputy Minister of Transport Nguyen Nhat yesterday signed a document sent to Soc Trang province People's Committee, the Directorate for Roads of Vietnam, the joint venture of investors Phuong Nam Company and Pacific Company about the toll cut.
Buses in An Hiep, Thuan Hoa communes and Chau Thanh town, Chau Thanh district will be exempt from paying the fee, those not used for business activities will see 50 percent cut and other vehicles will enjoy 20 percent reduction. In addition, the toll exemption will be considered in other special cases.
At present, investors are doing necessary procedures to apply the toll reduction from January 12.
Soc Trang BOT toll gate has shut down many times to solve traffic jam for the last days as drivers refused to buy tickets to travel through the station saying they had already paid road maintenance fee so the toll collection was unreasonable.
The toll station has been built to reclaim investment capital for the project of expanding National Highway 1A and building a bypass in Soc Trang city.
SGGP News