Vietnam hands over Nong Khang airport to Laos
A ceremony was held in Samneua district, Laos' Houaphanh province on May 15 to hand over and put into operation Nong Khang airport, which is to play a strategic role in the economic development of the northeast of Laos and Houaphanh province in particular.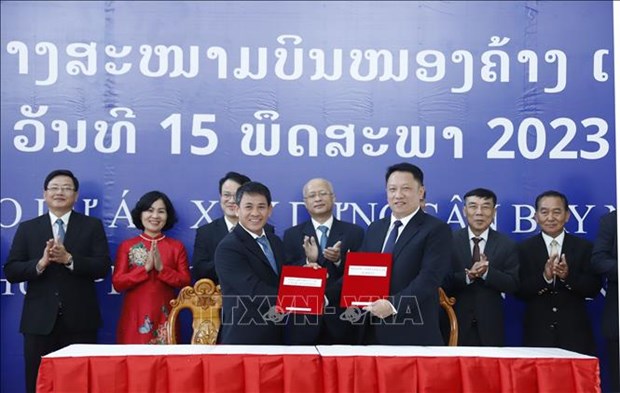 At the event (Photo: VNA)
Nong Khang airport is part of the Lao Government's infrastructure development strategy aimed at transforming Laos from a landlocked to a regionally connected nation. The Build-Transfer (BT) project has a total investment of 82 million USD, financed through a loan from Vietnam's Hoang Anh Gia Lai Agriculture JSC. The airport is built according to the 3C standards of the International Civil Aviation Organization (ICAO), capable of serving 100,000 passengers per year and accommodating aircraft with 70-100 seats.
Speaking at the event, Secretary of the Party Committee and Governor of Houaphanh province Vanxay Phengsoumma said the inauguration of Nong Khang airport is not only an important milestone in Laos-Vietnam cooperation but also fulfills the long-awaited expectations of local ethnic groups, offering opportunities to the province to grow in all aspects.

According to the Lao Department of Civil Aviation, Nong Khang airport facilitates quick connectivity between the northeast of Laos and Vientiane capital city, as well as other cities and provinces.

Located in an important economic-trade gateway between Laos and Vietnam, the airport also contributes significantly to the development of cross-border export-import activities between the two countries. It not only promotes tourism and economic growth of Houaphanh but also symbolises the enduring friendship and sustainable cooperation between the two neighboring countries./.
VNA