Young scientists introduce new technologies in aquaculture
Young Vietnamese scientists gathered in the Mekong Delta city of Can Tho on August 10 to introduce new technologies for aquaculture – a major industry generating export products of the country.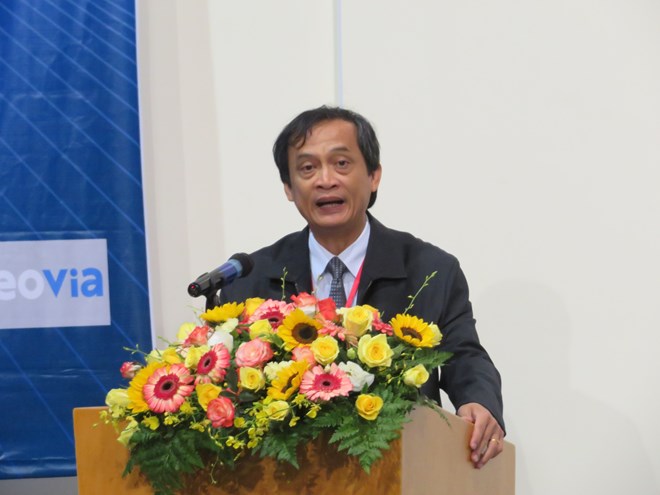 Prof. Dr. Nguyen Thanh Phuong from the Can Tho University speaks at the meeting on August 10 (Photo: VNA)
The 9th national meeting for young fishery scientists was held by Can Tho University and the Vifinet Working organization. It also attracted foreign researchers in the field.
Prof. Dr. Nguyen Thanh Phuong from the Can Tho University said global aquaculture is switching from small scale and rudimentary farming methods to large scale and super-intensive farming by applying scientific and technological advances. Aquatic products are also "usurping the throne" of traditional meat like pork, beef and chicken, Phuong stressed.
The Vietnam Association of Seafood Exporters and Producers (VASEP) forecast that the country will earn more than 8.5 billion USD from aquatic exports in 2018, up about 3 percent from last year. Meanwhile, Vietnam's fishery sector has continually been in the leading positions in the world market. Vietnam ranks fourth in total aquatic product output and fifth in aquatic product exports.
The Mekong Delta generates three-fourths of Vietnam's aquatic product output. Therefore, stepping up researches in this field is an encouraging sign and also an urgent task, Phuong said.
He added that the studies presented at this year's event have applied new technologies and modern processes to produce the best feed for aquaculture while benefiting consumers' health and protecting the environment. They have also created new varieties tolerant of climate change and new medicine made from herbal plants for aquaculture.
At the meeting, a group of scientists from Tien Giang University and Dong Thap University presented research findings on how to adjust temperature, salinity and light intensity of the farming environment to create shrimp and frog breeds with better resistance.
Other researchers from the Tien Giang University introduced medicine made from extract of tram bau (Combretum quadrangulare Kurz) plants that can prevent some pathogenic bacteria on bred species.
As part of the event, some fishery companies also showcased their products, offered career advice and introduced job vacancies to fishery students./.
VNA