Ambassador hails Vietnam's support for Russia-proposed resolution on Great Victory
Russian Ambassador to Vietnam Konstantin Vasilevych Vnukov has spoke highly of Vietnam's backing for a resolution marking the 75th anniversary of the victory in the Second World War that Russia has proposed to the United Nations as well as its support for Russia's stance on major international issues.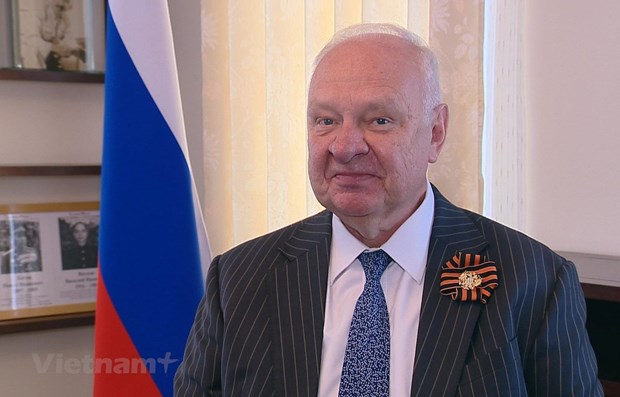 Russian Ambassador to Vietnam Konstantin Vasilevych Vnukov (Source: VNA)
In an interview granted to the Vietnam News Agency (VNA) on the occasion of the 75th anniversary of the Victory Day over Fascism in the Great Patriotic War (May 9), Vnukov appreciated that Vietnam always stands among countries loving peace and justice.
According to the ambassador, many major events have happened over the past 75 years, including the formation of the United Nations, which then has become an irreplaceable organisation and played an important role in preventing many wars and safeguarding and consolidating the world's peace.
Vnukov said he was happy when Vietnam was elected as a non-permanent member of the UN Security Council and has worked as a responsible member.
Regarding the significance of the Great Victory, the diplomat affirmed that the victory over Fascism was important to many countries, including Vietnam.
If Fascism was not defeated, the August Revolution could not have ended with a success, and President Ho Chi Minh could not have read the Declaration of Independence giving birth to an independent and free Vietnam on September 2, 1945, he stated.
To celebrate this year's Victory Day, the Russian Embassy in Vietnam plans to hold the annual event "Immortal Regiment" in an online format, and plant trees in the embassy's premises to build a "Garden of Remembrance", he added./.
VNA