ASEAN defence ministers gather at 14th meeting
The 14th ASEAN Defence Ministers' Meeting (ADMM-14) took place via videoconference on December 9 under the chair of the Vietnamese Minister of National Defence, Gen. Ngo Xuan Lich.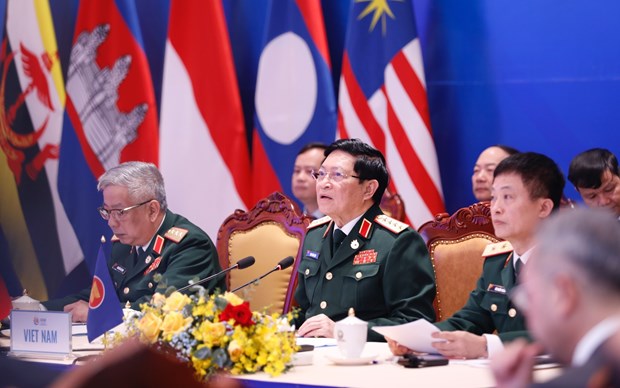 Minister of National Defence Gen. Ngo Xuan Lich (centre) addresses the 14th ASEAN Defence Ministers' Meeting on December 9 (Photo: VNA)
The event was attended by defence leaders of the member states and Deputy Secretary-General of ASEAN Hoang Anh Tuan. Those in Hanoi included Vietnamese defence officials along with ASEAN ambassadors and defence attachés.
Minister Lich thanked other countries' defence ministries and the ASEAN Secretariat for supporting Vietnam since it took over the 2020 ASEAN Chairmanship.
He pointed out that the COVID-19 pandemic has claimed over 1.5 million lives around the world, seriously impacted the economy of each country, the region, and the world as a whole, and even posed the risk of reshaping global geopolitics. Many countries in the region have also suffered from back-to-back natural disasters, causing heavy losses of lives and property and leaving long-term socio-economic consequences.
Regional peace and stability have become even more fragile in the face of risks relevant to terrorism, transnational crimes, maritime security, cyber security, and water resources security, he went on.
Amidst such difficulties, ASEAN has showed a "cohesive and responsive" spirit as in line with the bloc's theme for 2020, Lich said, noting that though many activities were postponed or held via teleconference, the member countries have witnessed strong development in their cooperation, especially in COVID-19 prevention and control, as seen through a number of initiatives like the ASEAN COVID-19 Response Fund, the Regional Reserve of Medical Supplies, or the ASEAN Comprehensive Recovery Framework approved at the 37th ASEAN Summit.
The minister said although defence ministries and militaries are among core forces in governments' common efforts to combat COVID-19, ASEAN countries have still maintained defence ties by creatively using digital platforms to serve communications and online meetings.
On the basis of ASEAN defence ministers' statement on defence cooperation against disease outbreaks issued in February, they have enhanced anti-COVID-19 partnership via sharing information and experience, providing medical supplies, working together to control cross-border movement and develop test kits and vaccines, and successfully organising an online joint drill on COVID-19 prevention and control among their military medical forces in May, he added.
During the ADMM-14, participants considered defence cooperation initiatives, the ADMM work plan for 2020-2022, and especially, the ASEAN defence ministers' joint statement on defence cooperation for a cohesive and responsive ASEAN.
They also looked into preparations for the ADMM Plus, to be held online on December 10, and some related issues./.
VNA