ASEAN economic ministers ink investment, trade pacts
The ASEAN Trade in Services Agreement (ATISA) and the fourth protocol amending the ASEAN Comprehensive Investment Agreement (ACIA) were inked by ASEAN economic ministers in Thailand on April 23.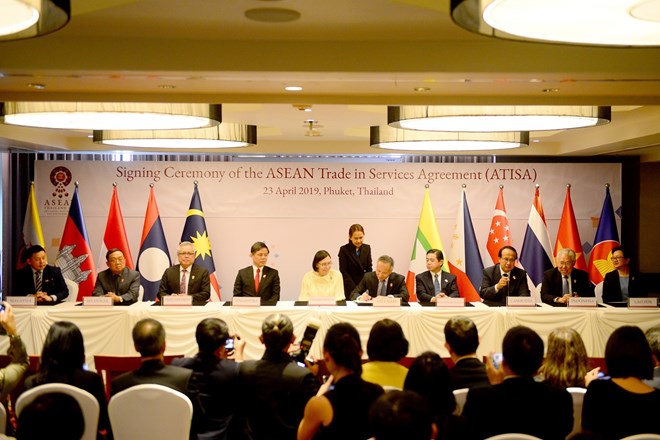 At the signing ceremony of the ASEAN Trade in Services Agreement (Photo: VNA)
The signing was completed as part of the framework of the 25th ASEAN Economic Ministers (AEM)'s Retreat, which took place in Phuket from April 22-23.
According to Thai Deputy Minister of Commerce Chutima Bunyaprasara, the ATISA is due to come into force 180 days after it being signed. It is aimed at enhancing standards and the validity of service regulations in the ASEAN member states, reduce trade barriers, and improve transparency in the services industry.
It will replace the ASEAN Framework Agreement on Services (AFAS) that was introduced in 1995, benefiting services in healthcare, tourism, accommodation, construction, and convention and exhibition services.
Meanwhile, the fourth protocol amending the ACIA is expected to lure more foreign investments into the bloc, she said.
At the AEM's Retreat, ASEAN economic leaders discussed, reviewed, and outlined solutions to economic cooperation contents within the bloc in 2019, and set orientations for the time ahead.
This year, ASEAN will focus on the theme of "Advancing Partnership for Sustainability" under the chairmanship of Thailand. There will be 13 economic priorities built on three major pillars of future orientations, connectivity enhancement, and sustainable development.
The AEM gathering highlighted economic cooperation within the ASEAN bloc and discussed measures to bolster collaboration with foreign partners, including ASEAN participation in restructuring the World Trade Organisation and speeding up the conclusions of negotiations for the Regional Comprehensive Economic Partnership (RCEP) this year.
Once the negotiations are completed, the RCEP will become the biggest multilateral trade deal involving all 10 ASEAN countries and China, India, Japan, the Republic of Korea, Australia, and New Zealand, making up 28 percent of the global GDP and 30 percent of world trade value.
In an interview given to Vietnam News Agency correspondents after the conference, Deputy Minister of Industry and Trade Tran Quoc Khanh, who led the Vietnamese delegation, said the ministers are concerned over the negotiation progress as talks for several items still fell short of expectation.
Khanh said that ASEAN needs to play a central role in negotiations so that they can be completed by the end of this year.
On the sidelines of the event, the Vietnamese delegation had a bilateral meeting with Indonesia, discussing solutions to promoting two-way trade. /.
VNA/Recorded by LAO