Bo Luy-Lo Gach pagoda relic gets national status
The relic complex of Bo Luy-Kompong Thmo pagoda, also known as Lo Gach (Brick-kiln) pagoda, in Chau Thanh district of the Mekong Delta province of Tra Vinh, has been recognised as a national archaeological site.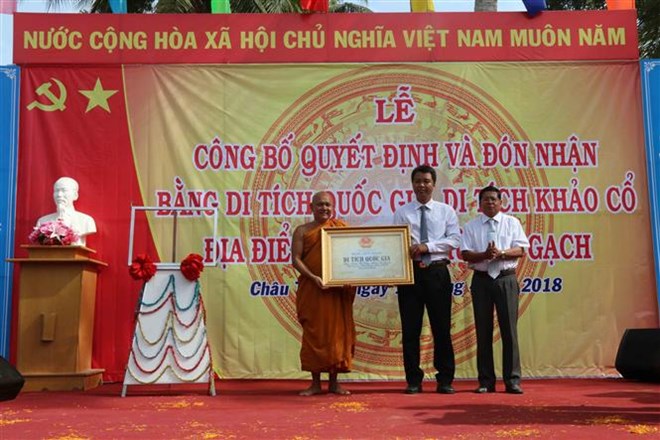 A photo of the ceremony to receive the recognition certificate held on April 16 (Photo: VNA)
A ceremony to receive the recognition certificate was held in the province on April 16.
The architectural relics unearthed at Kompong Thmo pagoda, also known as the Lo Gach pagoda, in Tra Vinh southern province, carry features from the southwest region's Oc Eo Culture, which was heavily influenced by the Indian culture, experts said following a recent excavation at the site.
Located in Luong Hoa commune, the relic site consists of two large-scale areas – one inside the pagoda's complex and the other in the vicinity.
Excavations of an area of 778 sq.m dug up six brick architectural constructions sprawling across an estimated 4,500-5,000 sq. m.
These constructions were found to share similarities with architectural relics found at Go Thanh relic site in Tien Giang and Go Xoai relic site in Long An.
Both sites trace back to the Oc Eo civilisation, which was well-known for its canals, temples and tombs built from bricks and stones. Gold sheets that had elephant images carved on them found at the Lo Gach pagoda and in Go Thanh were strikingly alike, as both are Buddhist architectural structures dating back to the period between the 8th and 9th centuries AD. Other findings also include remnants of earthen ramparts to the west of Lo Gach pagoda.
Tran Thanh Thuong, Director of the provincial Department of Culture, Sports and Tourism, said local authorities will carry out a project to preserve the relic complex, aiming to build it into one of the popular destinations in Tra Vinh in the future.
Currently, Tra Vinh is home to 36 relics, including 14 national and 22 provincial sites./.
VNA