Central localities strengthen quarantine measures against COVID-19
The central city of Da Nang quarantines all people coming from Hanoi and Ho Chi Minh City – two COVID-19 affected hubs – for 14 days at quarantine sites starting on April 5.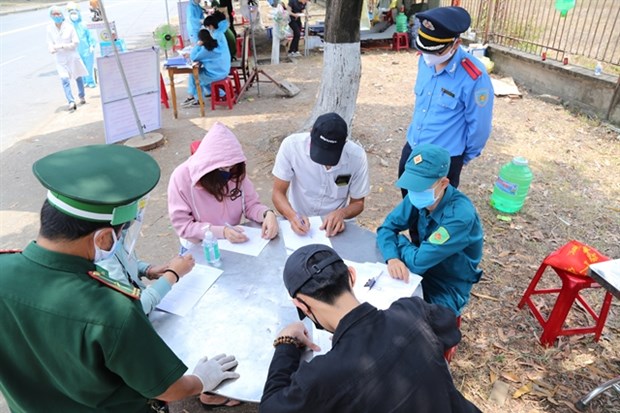 People make health declarations at a check-point in the central region (Source: VNA)
The city's authorities said citizens from Hanoi and HCM City, as well as those from Da Nang working and living in the two cities, will have to pay for the two-week quarantine period.
Da Nang-based Dong A College handed over 200 bottles of hand sanitiser that were made by local students and lecturers to seven check-points in the city.
According to the city's health department, 327 people have been quarantined as of April 5, while 4,637 had completed the 14-day quarantine. Samples of 3,248 had tested negative for SARS-CoV-2.
Authorities of Hoa Vang district also fined a group of 23 people for camping at a public site and violating social distancing orders on April 4.
Meanwhile, Quang Nam province warned local residents living and working in HCM City and Hanoi to not travel home at the moment.
It said residents living in the two cities will receive food and logistical support from the province to ease difficulties during the pandemic. All people returning from the two cities will be kept at quarantine sites for 14 days as per a decision released by the province last week.
A donation of 290 million VND (12,600 USD) and two tonnes of rice has been raised to support people from Quang Nam staying in the two cities.
The province had quarantined 498 people returning from HCM City and Hanoi between April 1-4.
Samples of 846 out of total 1,141 (including 689 foreigners) at quarantine sites and hospitals tested negative for COVID-19. To date, 236 people have finished their quarantine.
Neighbouring Thua Thien-Hue province has released 360 people after quarantine.
Local donors contributed 800 gifts worth 160 million VND (7,000 USD) and eight tonnes of rice to support poor people suffering the impact of the pandemic.
A report from Quang Ngai province unveiled that 74 samples of people who had close contact with COVID-19 positive cases all tested negative as of April 5.
The province has been quarantining 64 people. No cases of COVID-19 have been found in the province./.
VNA