Comprehensive measures required to respond to natural disasters
A set of comprehensive measures must be carried out in response to natural disasters to ensure safety for both local residents and their assets, said Deputy Prime Minister Trinh Dinh Dung on July 16.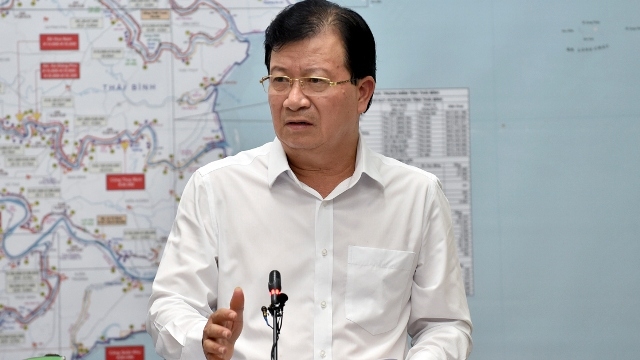 Deputy PM Trinh Dinh Dung speaking at the conference (Photo: VGP)
At a conference held by the National Steering Committee on Natural Disaster Prevention and Control (NDPC), Deputy PM Dung stressed that solutions for dealing with tropical low pressures that often develop into storms must be well prepared to minimise human and asset losses.
Ministries, branches, and localities should make plans and arrange resources to carry out the Government's Resolution No.76/NQ-CP dated June 18, 2018 on natural disaster prevention and climate change adaptation, as well as Directive No.19/CT-TTg dated July 13, 2018 on preventive measures against flash floods and landslides in the northern provinces.
Deputy PM Dung ordered the NDPC, in collaboration with the Steering Committee on Search and Rescue, to establish inspection groups at localities – especially those badly hit by natural calamities – to examine preventive measures; search and rescue vehicles; dyke safety; and important infrastructure such as electricity, roads, hospitals, and schools.
Localities should channel more efforts in swiftly addressing the aftermath of the June 23-26 floods in the north, he said, agreeing to arrange money to support flood-struck areas.
Amid the complex development of natural disasters, the Government has required the installation of disaster warning equipment and forecasting systems in all localities to give prompt warning to authorities and residents, particularly those in mountainous and remote areas, he explained./.
NDO