Deputy Minister of Industry and Trade - Phan Thi Thang works in Long An
On March 31, a delegation of Ministry of Industry and Trade led by Deputy Minister Phan Thi Thang came to work in Long An.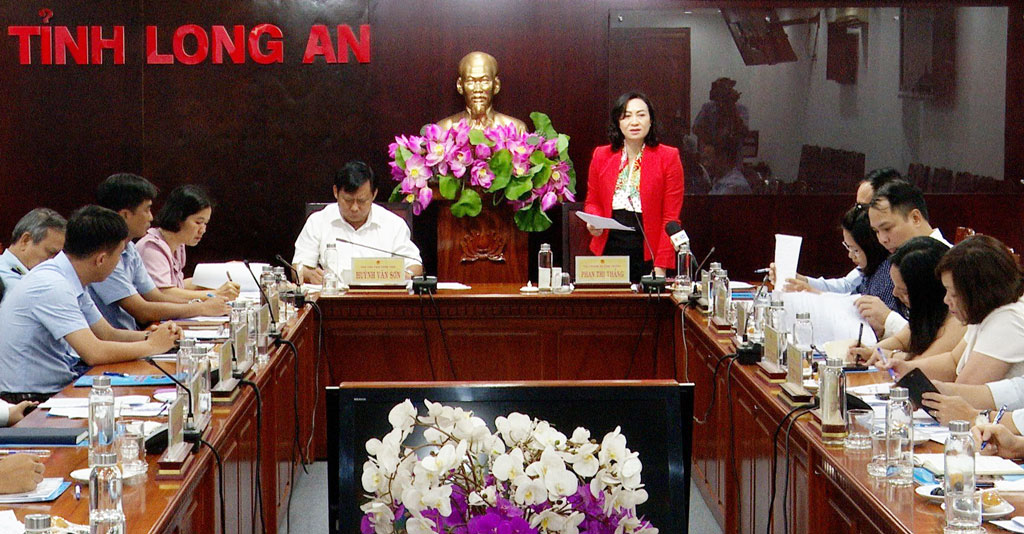 Deputy Minister Phan Thi Thang speaks at the meeting
Receiving and working with the delegation were Vice Chairman of Provincial People's Committee - Huynh Van Son, leaders of Department of Industry and Trade, Department of Planning and Investment, Department of Finance, Department of Natural Resources and Environment, Department of Market Management, Board of Management of Economic Zone and Long An Power Company.
The delegation of the Ministry of Industry and Trade listened to the report on the development of industry and commerce in 2022 and the first 3 months of 2023 of the province and fields under the State management function of the Ministry of Industry and Trade; contents on industrial and commercial development in Resolution of the 13th National Congress of the Party, important programs and projects for the development of industry and commerce of the locality in the 2021-2025 period; the implementation of industrial promotion activities, the management of industrial clusters in the locality; difficulties, problems, suggested solutions.
According to the report, in 2022, despite many difficulties in the recovery process after the Covid-19 pandemic, the province's economic growth still reached 8.46%; industry - construction makes an important contribution to the economic growth of the province; 19 out of 19 targets for 2022 have all met and exceeded the plan.
In the first quarter of 2023, the province's economic growth reached 3.82%, higher than the same period (2.83%) and higher than the national average (3.32%). In which, section I increased by 2.72%; section II increased by 5.34%; section III alone increased by 3.15%, slower than the same period last year.
Long An currently has 23 active industrial clusters attracting 688 projects with a total leased land area of 812.31 hectares. The occupancy rate of operating industrial clusters is 87.56% (calculated on the commercial land area with completed infrastructure). Currently, there are 450 operating enterprises with a workforce of about 34,000 employees.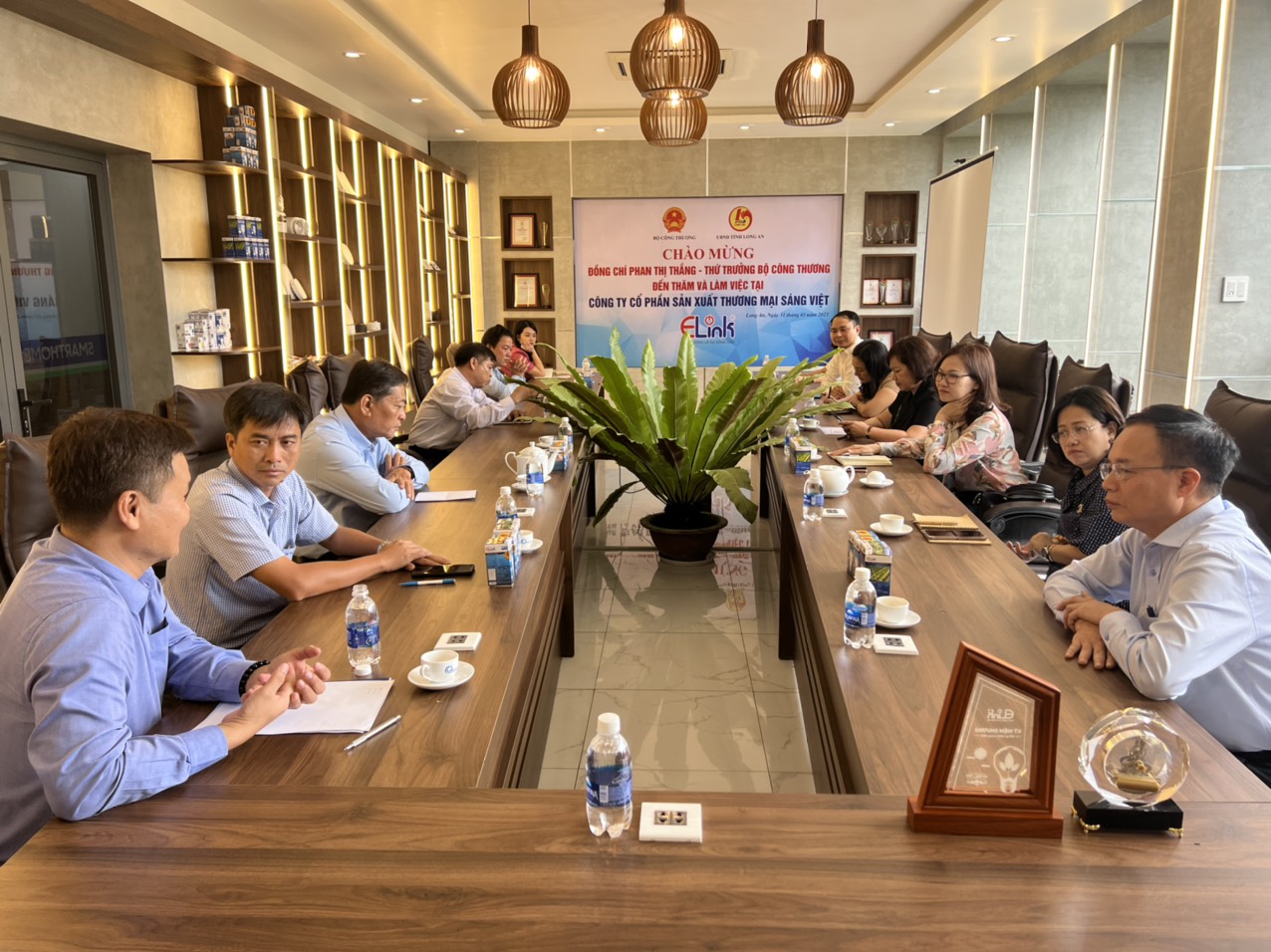 The delegation surveys at enterprises in Tan An city
According to the approved industrial development planning in the province to 2020, Long An has 62 industrial clusters with a total area of 3,106.5 hectares and Hai Son Duc Hoa Dong industrial complex, with an area of 261.2 hectares (not included in the plan to convert into industrial parks). Up to now, there are 52 industrial parks, total area of 2,655.1 hectares which have had planning/decision to establish industrial clusters; 10 industrial clusters with no investor.
The electricity infrastructure in the area has developed strongly, especially renewable energy projects from solar power. Long An plans to develop thermal power plants, waste incineration plants for power generation, biomass and wind power plants.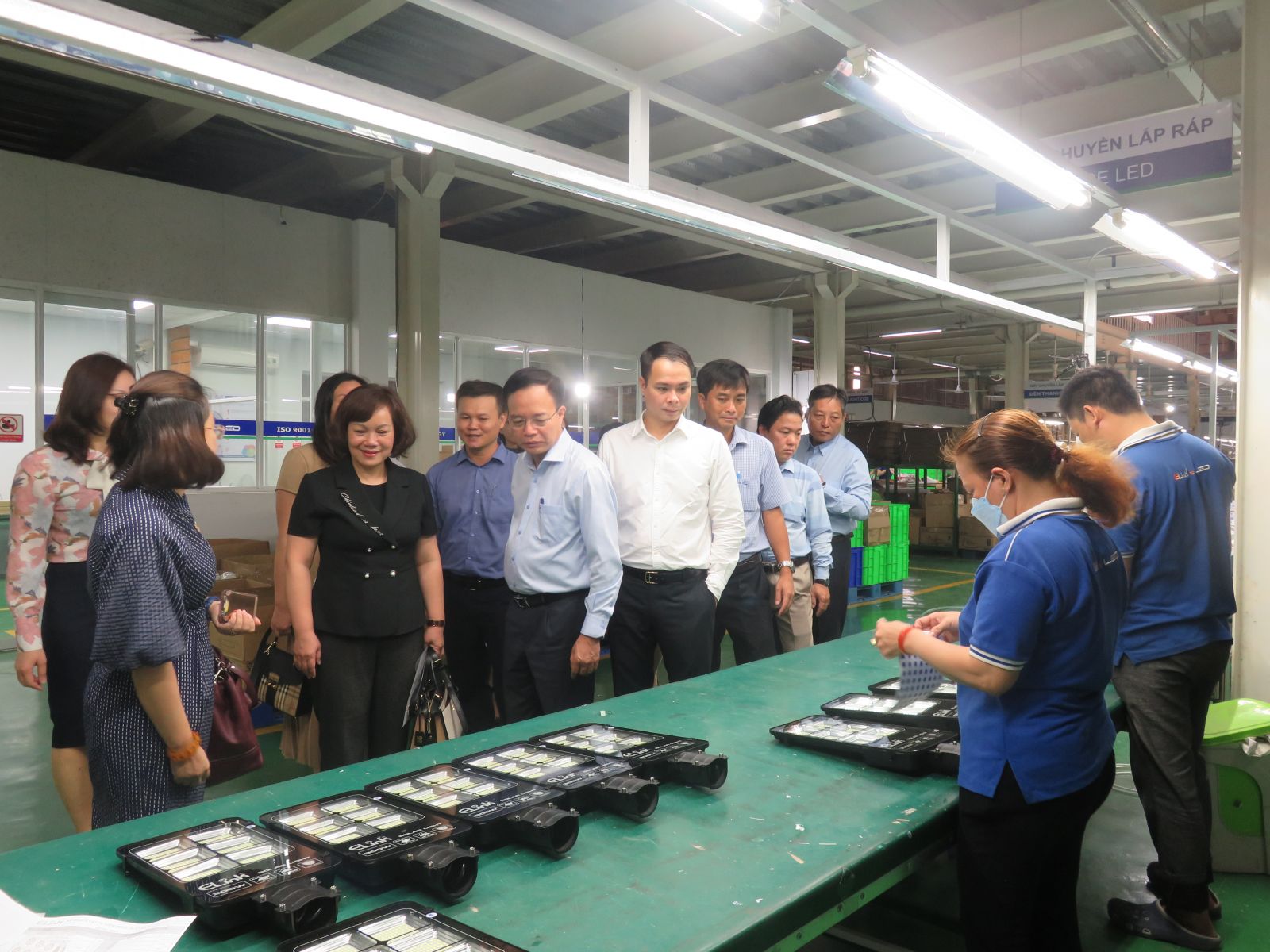 The delegation surveys production and business development of enterprises in Ben Luc
In order to support the development of Industry and Trade, Long An proposed to Ministry of Industry and Trade many solutions on industrial management; industrial promotion and trade promotion activities; the energy sector, the trade sector and many other favorable policies.
Deputy Minister Phan Thi Thang proposed that Long An continue to review the development of the industry and trade sector to have preferential policies to attract businesses to develop production and business, which is a sustainable source of income. In addition, Long An should drastically inspect and urge investors in infrastructure of industrial zones and clusters to invite investment, support, and handle procedures for planning, investment, and land construction, quickly deploy large and key projects in order to attract investment.
In particular, Long An should continue to improve the investment environment, effectively implementing measures to invite investment in the fields of industry, energy, commerce, logistics, creating a driving force for development; supporting industrial development, especially the development of supporting industries,deep processing industry to gain high added value; focusing on research and development of the domestic market, avoiding risks when exporting.
In the morning of the same day, the delegation surveyed a number of production enterprises, industrial clusters, rural industrial establishments that are entitled to industrial promotion policies in Ben Luc district and Tan An city./.
By Staffs - Translated by Q. Thien
Source: https://baolongan.vn/thu-truong-bo-cong-thuong-phan-thi-thang-lam-viec-tai-long-an-a152524.html