Eighth Da Lat Flower Festival to take place in December
The Da Lat Flower Festival will take place in Da Lat and Bao Loc cities and several localities in the Central Highlands province of Lam Dong on December 20-24, the provincial People's Committee announced at a press conference held in Ho Chi Minh City on October 25.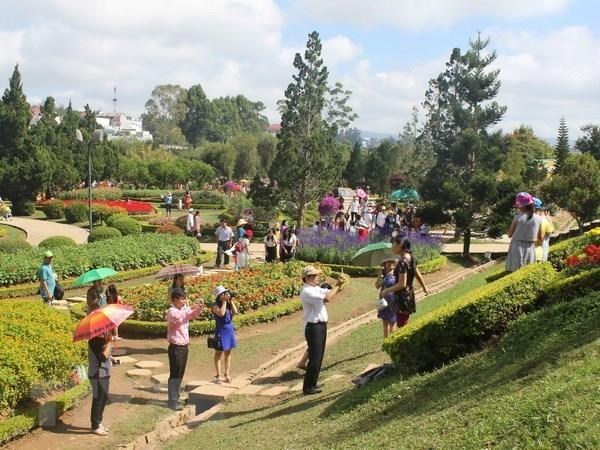 The Da Lat Flower Festival is scheduled to take place from December 20-24 (Photo: VNA)
The biennial cultural and tourism festival, themed "Da Lat and Flowers", will feature 12 excellent programmes to cherish flowers and the flower industry in Da Lat.
Vice Chairman of the provincial People's Committee Tran Thi Vu Loan said spaces of colourful flowers will be arranged around Xuan Huong Lake, major streets and five flower villages, while a light art road will be piloted at the same time.
In addition, the Vietnam – the Republic of Korea cultural and art exchange programme, a Week of Tea and Silk Culture promoting the tea and silk industry in Bao Loc town, and a fashion show featuring unique designs made from Bao Loc silk and brocade are scheduled at the event, she said.
According to Chairman of Da Lat city People's Committee Ton Thien San, the five-day festival is expected to draw 300,000 visitors, who come to enjoy local staples, flowers and tourist attractions.
In the past time, the city has worked to improve the quality of tourism services and facilities. Tourists now can use their smart phones to look up eateries, entertainment areas and festive activities in Da Lat city as the city has carried out smart tourism programme.
Da Lat city has 1,859 accommodations with 23,553 rooms which can serve 70,000 people per day./.
VNA