Experts call for more support to mechanical engineering industry
The fourth Industrial Revolution's technologies help improve manufacturing efficiency and competitiveness, but not many firms, with their limited resources, can afford them, experts have said.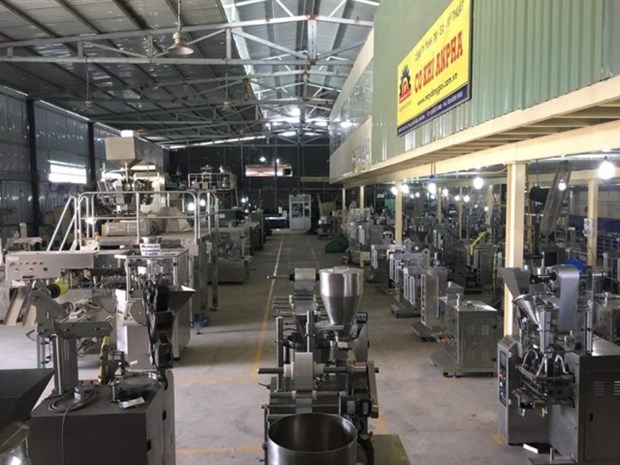 At a mechanical production factory (Illustrative image. Source: thegioihoinhap.vn)
Do Phuoc Tong, Chairman of the HCM City Association of Mechanical – Electrical Enterprises (HAMEE), said: "New machinery and technologies today are always integrated solutions that enable managers to know the current status of the manufacturing process, how the machine is operating and in what mode, and so on. This helps boost efficiency and reduce errors in the production process."
He told Vietnam News: "Investing in the Fourth Industrial Revolution's technology requires a large amount of money. Many Vietnamese firms in the mechanical engineering sector want to invest in new technologies but their limited resources prevent them."
Many businesses also have difficulty in finding human resources who understand and could use new technologies, according to Tong.
Many foreign companies have shifted their production to Vietnam, and a number of local and foreign companies have expanded production, increasing demand for human resources.
"But human resources in society cannot be suddenly increased. So training and retaining human resources is currently a very tough problem for businesses in the mechanical engineering industry."
Pham Xuan Da, head of the Ministry of Science and Technology's southern affairs, said manufacturing was the backbone of the economy.
"Though the [Government's] preferential and support policies have not met the expectations of the mechanical engineering industry, it has achieved remarkable results such as expanding rapidly in terms of numbers from around 10,000 in 2010 to more than 21,000 enterprises in 2016, and increasing exports to over 16 billion USD."
"Local enterprises can make some products that we previously had to import. Production lines in factories are synchronized, and enterprises have developed a number of technologies."
Local firms also successfully developed many kinds of machinery, equipment and production lines for the agricultural sector, including for animal feed production and cassava starch processing, he said.
But the industry faced many shortcomings, including low competitiveness, shortage of raw material supply and qualified human resources and lack of linkages between companies, he said.
According to experts, in the context of integration and the fourth industrial revolution, new requirements have emerged for the mechanical industry, requiring them to make more efforts to improve their competitiveness and they need supportive policies from the Government.
Tong said: "There is no policy to support enterprises investing in reforming their management system.
"For a long time, the Government has had policies to support enterprises investing in upgrading machinery and equipment to improve production capacity."
"But if an enterprise has good equipment but not good management, it would be hard to fully exploit the equipment," he explained.
"Therefore, we want the Government to offer enterprises stronger support in the area of management."
He said relevant agencies should do research to come up with solutions to help firms install a management system at a reasonable cost or subsidize it.
Having advanced management systems comparable with international standards would help improve the competitiveness of Vietnamese firms, he said.
Tong, who is also chairman of Duy Khanh Engineering Co., Ltd, said his company was looking for solutions to enable an administrator to control production capacity and processes to optimize the manufacturing process, improve production efficiency and better meet customer requirements.
It had worked with a software company to develop a system for controlling the company's activities from operating machines to taking orders, he said.
"This ... is essential for businesses in the mechanical engineering industry. With better management capacity, enterprises will better meet customers' demands and customers will have more trust in [such] businesses."/.
VNA